AremaC is a photography application for the iPhone and iPod touch that lets you create, stack and nest digital effects and masks real-time, prior to taking the shot or recording the video. For amateur photographers, aremaC is an impressive tool that lets you capture images that wouldn't otherwise be possible right on your iPhone.
AremaC is also a blast to play with, and after installing it on our iPhone 4S, we spent an hour or so treating it like a game. Even without taking any photos, it's fun to experiment with the various ways that you can manipulate an image. There's a practically limitless array of possibilities.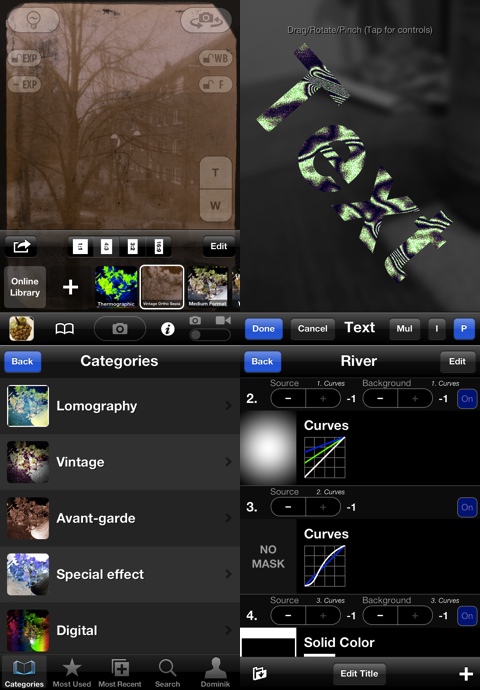 For this review, we exclusively used an iPhone, but the app is works on any iPod touch with a camera and can also be used on the iPad 2 as well. AremaC can also be used in a more limited fashion on a device without a camera, such as the first-gen iPad, since you can apply the various effects and masks to preexisting photographs as well.
What distinguishes the aremaC iPhone app is how sophisticated it is. There're a slew of such apps for the iPhone and iPod touch, and they usually come up short because there's a limited selection of filters and masks, or because they "fake" the real-time processing. With the aremaC application, you can walk down the street with your device in front of you, adjusting effects on the fly, and the app will continue to process smoothly without missing a beat.
We were equally surprised at how well aremaC applies the effects to video. Take, for instance, the preconfigured vintage sepia effect, which gives pictures a noisy bronzed aesthetic, as if taken on the earliest cameras. We took a dozen still shots with this effect, and then we recorded thirty seconds of video. When we compared them, what amazed us is that when we slowed the video down to frame-by-frame, the frames were indistinguishable from the still shots in terms of quality.
AremaC allows you to create fully parameterized effects. The program includes a wide array of preconfigured effects, filters and masks, and the user can create and save his or her own. There's no limit, outside of the practical limits of the device, to how many effects the users can create. There are 26 built-in filters and 7 distinct mask generators, and by mixing and matching these effects at different settings, the possibilities really are endless.
The bottom line is that aremaC is a fun and powerful photo utility app, and at just $0.99, it's an incredible value. Sure, we're not really photo-hounds, and we'd rather be playing a game, but aremaC is a program we'll actually use in the future. We set out on this review not expecting much, but were pleasantly surprised, and at less than a dollar, we'd recommend aremaC to any iUser.