The Faster app for iPhone helps runners set goals and track progress quickly and easily. With intuitive, excellent gesture controls, you can customize Faster to maximize the app's performance and create results for you.
With a quick permission to allow location services and efficient personal information data entry, the Faster iPhone app gets you running more quickly than the time it takes to tie your shoes. Faster doesn't require extensive registration to operate. You set up your profile with the settings icon. With gesture controls, you touch the screen to identify sex. With a slide of your finger, you input your height, weight, and units measured. This entry enables the Faster iPhone app to more accurately calculate your calories burned.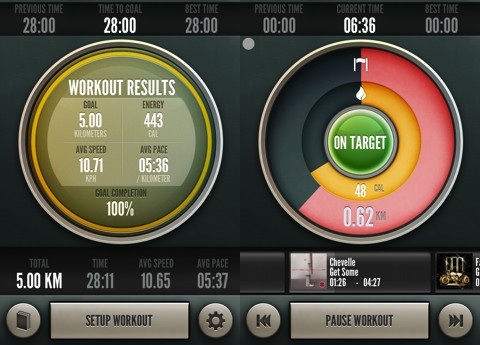 Through the settings menu, you also have the opportunity to establish if and when you would like a voiceover to let you know your duration, distance, and pace. You can choose all three or just one. This customization is an excellent option, so you can determine what you need to best motivate you. After you establish your default settings, this is a step you get to skip. Then, you'll be running even faster with the Faster iPhone app.
With excellently refined gesture controls, you set up your workout. You slide your finger across the screen to establish your target running time. You set your distance in kilometers or miles. The excellent interface allows you to choose a distance with a scroll and touch. Or, you can slide your finger across the screen for exactly 5.2 kilometers. You can select a playlist, or you can let the Faster iPhone app create your soundtrack. And, you're off. All of these features are presented in one screen that is both visually appealing and easily navigated.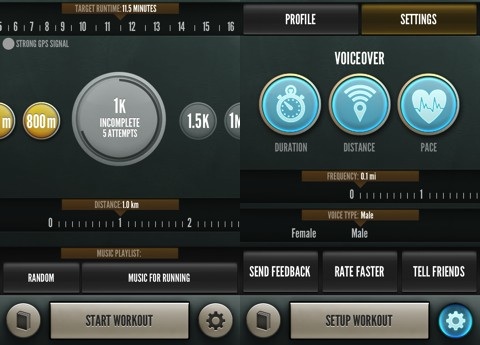 I was extremely impressed by the Faster iPhone app soundtrack creator. It started with a great song to start a run–slowly building in tempo. Then, the soundtrack kept you moving. If your pace slows too quickly, then the song starts dragging and slowing. It's Faster's passive-aggressive way of telling you to speed up. Faster's song selection certainly enhances the running experience.
The Faster iPhone app tracks each workout's results, so you can monitor your improvement. With a touch, your results from the run fill the screen–distance, calories burned, speed, and pace.
Overall, the Faster iPhone app is graphically interesting, incredibly intuitive, and filled with functionality. If you want a gimmick free, social networking free running iPhone app, then Faster is a great choice. Great work from PerspecDev!