Billr is a new iPhone app that helps with splitting your restaurant bill. Want to accurately calculate the bill for your lush friend? Want to distinguish between the friend who orders the $35 entree special and the one who orders an appetizer and salad? Eating out with friends could become more fun and less financially draining with the Billr app for iPhone.
The Billr iPhone app combines smart, modern graphic punches with easy, logical navigation. You calculate party size with a touch on the screen. You simply press plus to add people and minus to subtract. Each person is associated with a color. Next, you move to the screen where you add items ordered. A calculator pops up, and you quickly add the amount. You move between each person with a touch. To add an item, the add item icon moves with you from one person to another. Data entry is not only quick and easy, but also it is accomplished with minimal disruption.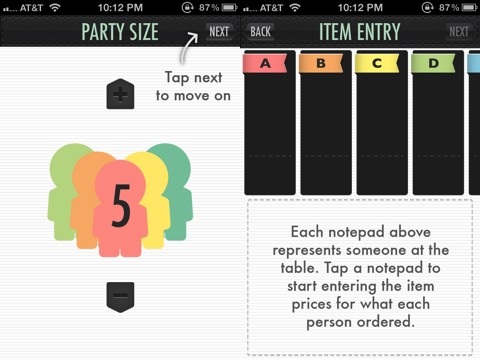 After you have completed your meal or cocktail hour, the Billr iPhone app calculates tax and tip for the total bill. You adjust the tax rate with a touch on the plus or minus button. An improvement would include the ability to set a default tax rate. The default is not my tax rate, so a settings adjustment would make the Billr iPhone app move even more swiftly for me. Restaurant servers will appreciate the default tip is 20%. Again, with just a few touches, you can increase or decrease the tip.
Finally, the Billr iPhone app breaks down each person's bill. You can quickly find item costs, tax, and tip. You can pass your iPhone around the table. Or, you can share via text or email. The text function connects you with a url. With email, you send a screenshot of the final breakdown by person.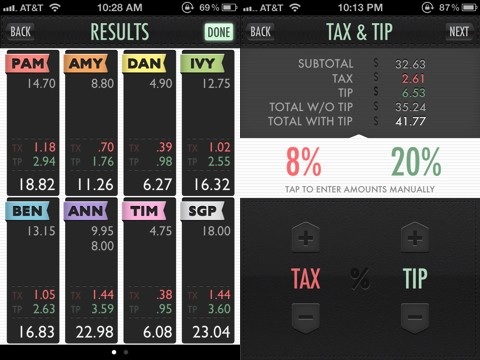 Billr's iPhone app is a great, easy tool for accurately splitting a bill. For the small investment of $0.99 for the Billr iPhone app, you can save yourself a bundle or stop asking your friends to subsidize your bacchanalian, decadent tendencies.
This 3rd Party App is available at the Apple iTunes AppStore. Browse the full list of
all AppStore apps
filed under the AppStore category.