Are you looking for a quick, easy iPhone, iPod Touch, and iPad app to track your time? BeginIt from Dylan Vann is a productivity app with simple, intuitive interface to make a cumbersome task interesting. An added bonus is the inclusion of goal setting, so you can remind yourself of the time you need to devote to a task or project to find success. The app also creates beautiful colorful graphs and charts from your daily activities.
The BeginIt iPhone, iPod Touch, and iPad app has a bright, modern feel. Instead of pop-ups to lead you through BeginIt's interface, the home screen gives you directions with the same look and feel of your task and goal list. Your task or goal is typed in a bright, bold text box, and you can see the time you have committed to that pursuit in a list form. To gather more details, you touch the task to open more details and a graph of your time spent. To delete a task, you swipe the screen to the left.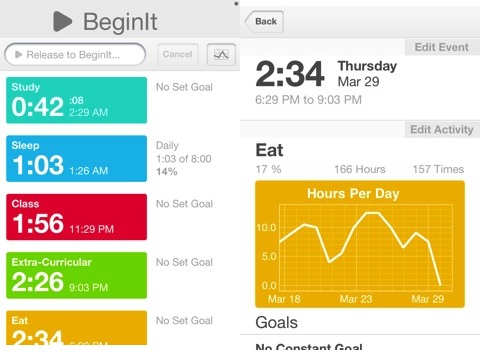 To create your own BeginIt iPhone, iPod Touch, and iPad app task and goal list, you start typing in the bar at the top of the screen. The BeginIt iPhone app automatically starts tracking your time. You can establish a daily, weekly, or monthly goal for this task. With intuitive, agile screen touches, you set your goal and your time continues. You can choose the color for your task from a great, chic palette. You can follow your progress by a graph as well. You can see days where you've made more progress or slacked off a bit. Your goal is monitored as minutes of the time allotted, as well as by percentage complete.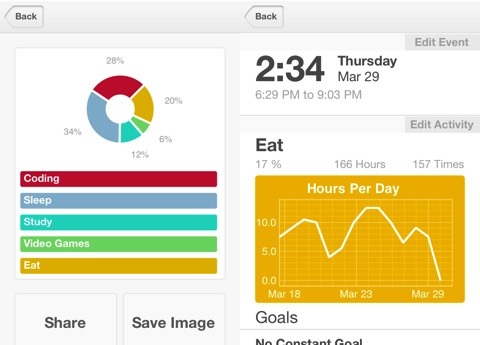 The BeginIt iPhone, iPod Touch, and iPad app is better suited to those who do not multitask. Your time is logged for one task, and the activation is simply performed with gesture controls. The BeginIt iPhone, iPod Touch, and iPad app helps you stay on top of how you spend your time in work and play, and it helps you make strides meeting your goals and expectations for a reasonable $.99 iTunes App Store download.