My Status strives to change the way iOS users receive and decline communications with their contacts. My Status lets you update your status on your iPhone or iPod touch to indicate what you are currently doing: busy, free, not available, in a meeting, can't talk now, watching TV, etc. When your contacts-who also use My Status-seek to communicate with you, they are alerted of your current status.
Upon opening this application, My Status shows your current status. Beneath that is the button to "Update Status." Pressing this button takes you to a screen with many status options including general status, feelings, activities and places.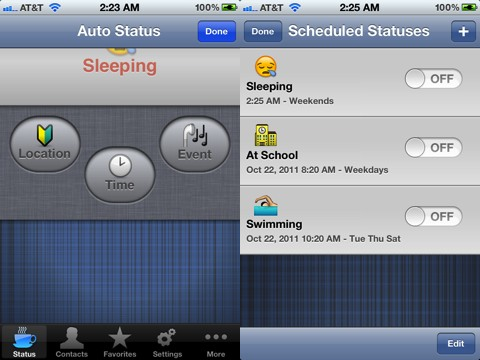 My Status contains a bottom toolbar for navigating the menus. The first icon (Status) shows your status. The second icon "Contacts" shows your iOS device contacts and your "My Status Contacts." Next to that is the "Favorites" icon which shows your favorite statuses. The Settings icon lets you change your status color and language. My Status also integrates with Facebook and Twitter to auto-post your status updates to your social media network of choice. The More button lets you rate the app, provide feedback, change your phone number and share the app with your friends.
My Status by My Status costs $0.99 USD to download from the iTunes Store. They also provide a free My Status version which is ad-supported. The ads display along the bottom of the program above the bottom toolbar.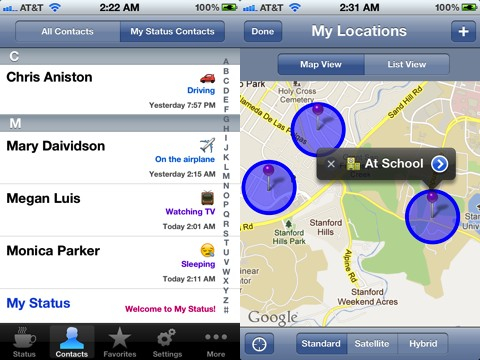 My Status' functionality remains entirely dependent on your personal contacts. When you have no contacts who use My Status, this program is worthless to you. It does not function as a communications program if you have no one in your network to use it in conjunction with.
I didn't enjoy using this iPhone app. I think the developers have an intriguing concept with their application but it falls flat when you don't have the mass appeal needed for it. In order to get this type of program to be successful, you need worldwide usage on a massive scale. Otherwise, users must educate their friends on its uses and encourage them to use it. With other more popular options available, there isn't any compelling reason for users to go out of their way to recommend this program. Perhaps, once developers heavily market this product, its use may increase over time. As of now, there is no use for this program on my iOS device.
This review of My Status was written using an iPhone 4 running iOS 5.0.1 firmware.