Looking up at the night's sky often fills us with wonder and amazement. If you'd like help identifying the stars above, iCandi's Night Sky iPhone and iPad app is an affordable way to understand just what's up there.
Looking Up
The idea behind this iPhone product is nothing new. There is a similar application for Android and a few other platforms. The Star Walk app for iPhone also has similar functionality, which we'll get into later in this review. Basically, you aim your phone at the sky and the stars are overlaid with astronomical data such as constellation diagrams and star names.
I used this on my iPod touch by standing outside while picking up the Wi-Fi from inside my house. Its pretty cool to see the sky above augmented with constellation names and stars. I was able to identify major points of light in the sky. This iPhone app would be a great learning tool for those with children.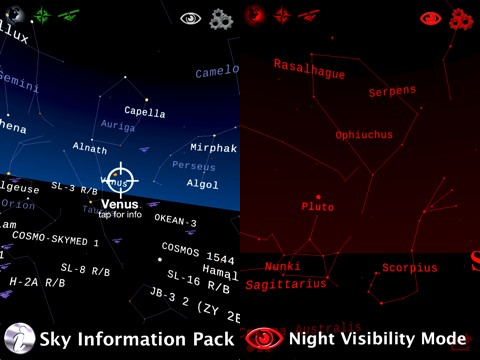 Comparisons With Other Products
Unfortunately, Night Sky doesn't really measure up to its competition. It does what it claims to do, but suffers from lack of a few key features that make other apps like Star Walk truly amazing.
The augmented graphics is what makes other apps so impressive. Looking up and seeing astronomical data overlaid with what you're actually seeing made you feel like you were in some kind of science fiction film. Night Sky's uninspiring artificial horizon just can't compete.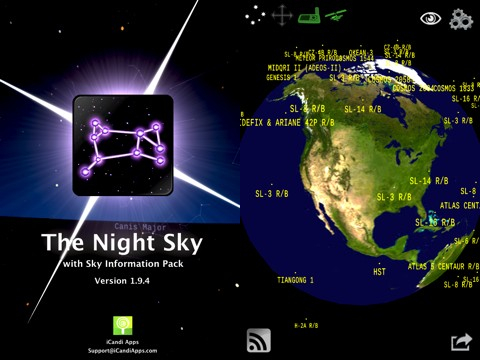 There are some performance issues as well. The program doesn't track as good as its competition. You can't get any more info by clicking on the data in the sky. Night Sky is solid and performs well enough to actually identify stars. That is what it's supposed to do in the end.
Night Sky can help you identify stars and is a pretty cool use of smartphone technology. However, I'd love to see augmented stargazing added to this app. The ability to look up information on the stars you see would be great too. Considering that you have to be online to use it, at bare minimum it could launch a web link to a site about a star you click on.
Overall Impression
iCandi could do a lot more to produce a quality stargazing application. However, Night Sky is one of the cheapest stargazers and can help you identify what's going on up there in the vast universe.