The Dwolla iPhone and iPod Touch app lets you pay and receive payments without swiping a credit card and charging all of those nasty processing fees. Dwolla is essentially the gateway between your bank account and the account with which you're conducting a transaction connected using social networks such as Twitter and Facebook. The fee structure is amazing. Anything under $10 is free, and anything over $10 is 25 cents.
The process for setting up your Dwolla account can be completed online, or you can get started with Dwolla on your iPhone.  The registration process moves fairly quickly, but it is extremely thorough.  There are multiple verifications, and you establish security items and link accounts.  There is nothing remarkable about the interface for this registration, but all of the steps are clearly and succinctly explained.  If you need more information, there is constantly an opportunity to check out a Dwolla blog piece or website content to help you understand the process.  The registration process and getting your account set up on your iPhone makes you comfortable that your banking information is secure.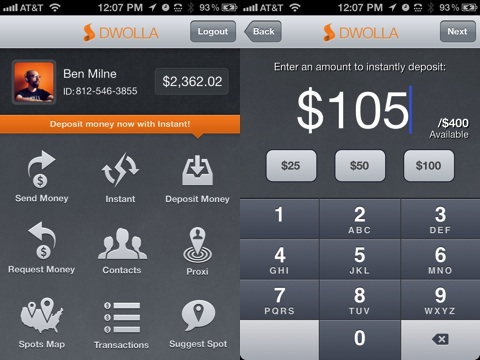 Once you have set-up your account and Dwolla iOS app, the interface is presented in a matrix with one touch navigation.  You can send, request, and deposit money; find merchants; scroll through your contacts on your social networks and your iOS device's contacts; check out your payment history; and access instant cash.  After making your selection, the Dwolla iPhone app has a logical, simple interface for executing the actions.  For example, to send money, you simply complete three fields and press authorize.  Your transaction list is a straightforward list view with all of the pertinent details.  The interface is intuitive and easily navigated.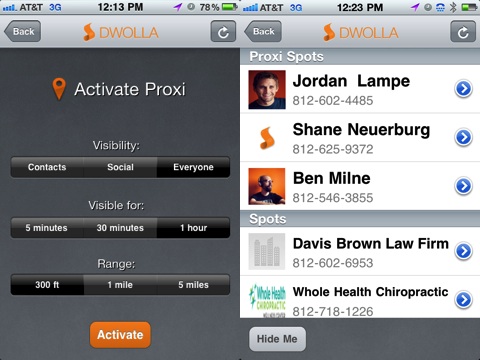 The Dwolla iOS app includes several neat features that help you maximize this new payment system.  You can activate location services and search for Dwolla merchants near you.  You can also search through your existing social networks like Twitter and Facebook to request or pay someone through Dwolla.  With one touch, you can also move the most recent contacts with whom you've had a transaction to the top of your contacts list for quick payment.  You can also request and make payments by sending an email, so you don't necessarily have to work with Dwolla users.
The Dwolla iPhone app incorporates ease of use with cutting-edge security and banking principles.  The iOS app streamlines the functions and tools available at dwolla.com.  The cost to join and download is free, and the fees are much less than Square's iPhone app. Dwolla brings exciting features to your iOS device for on-the-go payments, and you don't have to bring your wallet.
This 3rd Party App is available at the Apple iTunes AppStore. Browse the full list of
all AppStore apps
filed under the AppStore category.