The WhatsApp Messenger app is the answer to texting on a budget from your iPhone. Say goodbye to expensive text charges, especially international texts, or texting plans. This app, available for iPhone and iPod Touch, is an easy and instant way to communicate with anyone, practically anywhere in the world. By using the internet data plan on the user's mobile device (the thing that allows users to surf the internet and check email), this app lets users exchange SMS messages instantly with any other WhatsApp user they know.
To begin using WhatsApp, the user needs only to register their phone number of the device the user will be using the app on. Once the number is registered, the user will wait for the confirmation code to arrive quickly by SMS. Be warned, even if the user gets the code and has completed all the sign up steps, it can still take up to 12 hours before messages can be received. What's clever about this app is that it syncs to the users device once it is installed, so that all of the users contacts are linked to the app, in the 'Contacts' section. Most importantly all contacts who also use WhatsApp are listed under the 'Favorites' section at the bottom of the screen. This makes it easier for the user to already know who they can start contacting.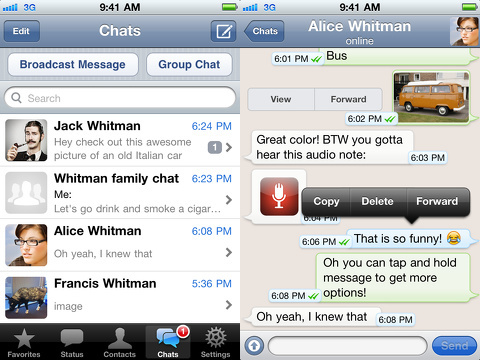 WhatsApp is easy to navigate and very user-friendly. The interface looks very similar to the iPhone contact lists, so it's familiar territory for iPhone users. There's no guessing as to whether or not a message was sent through; tiny check marks will appear next to the sent text indicating that the recipient has received the text on their phone or server. When a text has been received on an iPhone, it acts just like a regular iPhone SMS, the text will appear on the home screen (or however else the users has text notifications set up on the iPhone) and will use the same alert tone that is set up for regular text messages.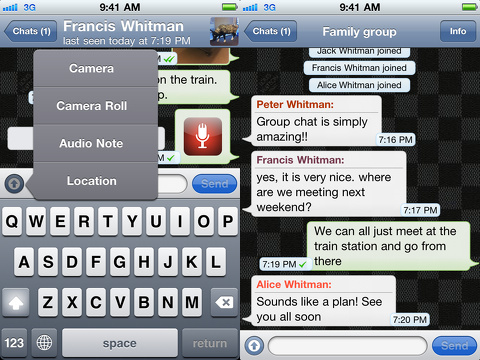 For users who like to personalize their apps, a profile can be created under the 'Settings' category where a photo can be added that will appear on push notifications and chats. Each user can update their status via the 'Status' icon at the bottom of the screen so that contacts know whether a user is available, busy, only available to text, etc. Chatting works like iPhone texting in that group chats can be created with any other contacts already using WhatsApp. Another great feature about this app is that users can also text photos, videos and voice notes as well.
WhatsApp Messenger is absolutely essential for any Apple product user out there who texts, and for only 99 cents there's no reason not to have it.