The Snap2PDF iPhone app uses your iOS camera to create and share PDF documents. With a simple click, you can categorize and easily stay on top of bills, permission slips, forms, and more.
The Snap2PDF iPhone app has absolutely no tutorial, so you must figure out how to use it with a bit of trial and error. For productivity iOS apps, pop-ups and tutorials are–in most cases–a necessity. You have purchased an iPhone app to make life easier, not to make you lose time figuring out what the icons do. Three or four screens with tools, hints, and suggestions that are scrolled with horizontal finger swipes would be excellent additions.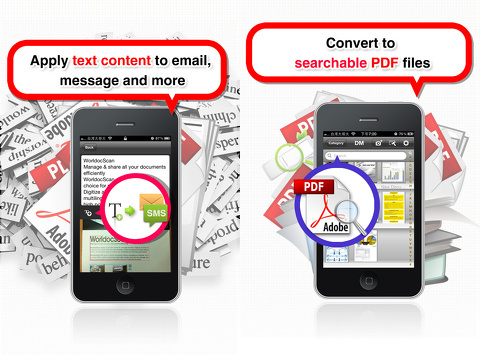 There is a menu bar at the top of the screen where your PDFs are stored alphabetically in a similar interface to the iOS Newsstand app. If you want to sort them by category, you tap the icon in the upper left hand corner. You are transported to a page to create and sort categories. You simply tap a plus, type a category, and it is automatically added to your list. This is a great feature for busy professionals, but also a great tool for families. Every child has a different permission slip and set of forms, and it is helpful to sort easily.
The top menu bar also has three additional icons to access functionality. You can upload a PDF by snapping a photo or selecting one from an existing photo in your library with the camera icon. After you snap the photo, you can rotate, crop, and choose language. Then, you add a name, description, category, and keyword. The PDF is automatically dated and stamped. The icon with the hammer in the top right gives you a chance to categorize a bill, if the existing category did not exist at time of upload. An improvement would be the ability to add a category at the time of upload instead of returning to the PDF in a different screen. You can also email the PDF and sync with Dropbox. Your settings icon allows you to establish the sync, as well as the default resolution of the PDF.
The Snap2PDF iPhone app is an excellent tool for loading and generating a PDF from your iPhone camera. It does not, however, have tools to sign, add text, and further manipulate a PDF. Snap2PDF's absence of editing tools like DocuSign Ink's iPhone app makes it less functional. If you are looking for a way to streamline paper clutter, then the Snap2PDF iPhone app is a solid option.