CamScanner Free for iPhone and iPod touch is a cheaper and simpler alternative to the traditional scanner. Instead of dropping hundreds of dollars on a fancy scanner . The beauty of this app is that it's not just meant for the typical 1 page, letter-sized document. The user can scan in everything from business cards, invoices, certificates, whiteboard, and more. Basically, any type of document a user would need for business purposes can be categorized in this app.
It's easy to start, just use the app to take a photo of the document. Then the user has to do is edit if needed, categorize the scan under one of the many business categories (the categories make it very easy to keep track of documents), convert to desired format and send out. All finished documents can be converted to PDF or JPEG files that can then be emailed; faxed (note there is a charge to fax); or uploaded to your personal Dropbox, Google Docs, Evernote of BOX.net accounts directly from the app so the user doesn't have to exit out of the app and into their email or icloud accounts to do anything.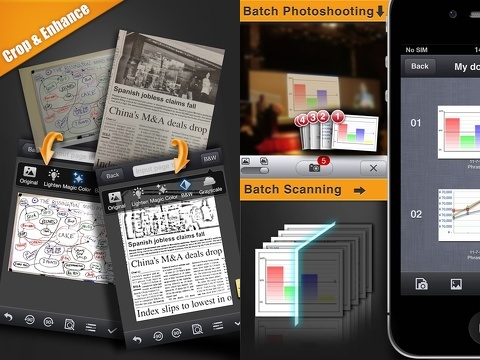 One of the best features of the app and a testament to why the quality of the user's finished product is so good is that there are tons of ways to edit a document. Other scanner apps tend to have the finished document look too bright in the center and too dark in the corners of the document. But, in CamScanner Free the photo can be altered to avoid almost any coloring or shading problems that could obscure information in the photo. Photos can be cropped and scaled; color can be converted to black and white, gray, color, or the bold 'Magic Color; and the image can be made brighter or darker. The size of PDFs can also be customized to the user's business needs by tapping on the three dots at the bottom of the app's home screen and choosing 'Settings.'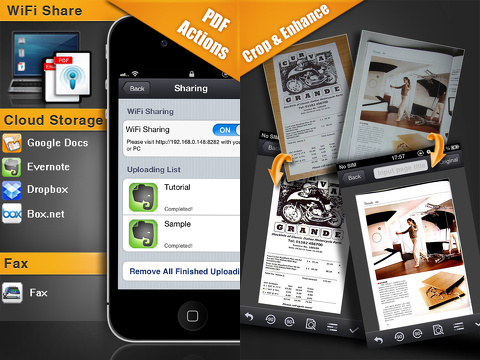 The only gripe about this app that is quite frustrating, is that if the user goes to the 'Albums' page, a page to create albums of images, the page will not go away if the user tries to exit. The page keeps bouncing back to 'Albums,' even if the user exits out of the app back to their iPhone or iPod touch home screen. The only solution found to get back to a previous screen was to completely turn the phone off and back on.
You can't beat the value of the CamScanner Free app from IntSig Information Co., Ltd. Whether you need a scanner for school, business or personal use, this app provides top quality scans (that are hard to distinguish between scans done on a scanner machine) for the best value out there.