Looking for a clean, crisp, and modern iPhone app to jot down to-do lists, reminders, and brainstorming ideas? The Squarespace Note iPhone app is a sleek, agile, and free way to track tasks, thoughts, and action items with unexpected sharing features.
The Squarespace Note iPhone app is operated by agile gesture controls, and the excellent tutorial introduces you to the functionality and features. The Squarespace Note iPhone app is a virtual note pad to type, tear off, share, or throw away reminders and to-do list items. A vertical swipe up the screen tears off the note. You swipe horizontally to the left to access sharing options. You swipe to the left to find your list of saved notes. Swipe down on the saved list to access the delete option.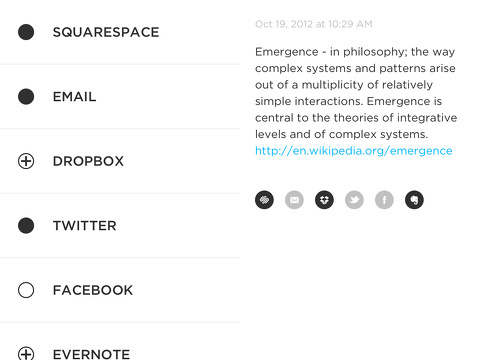 When I watched and took part in the tutorial that not only demonstrates, but leads you through the gestures, I was a bit concerned that all of these specific gesture controls would be confusing or hard to remember. The successful interface of the Squarespace Note iPhone app perfectly complements the required gestures. There are additional helpful integrations of common iOS functionality like items in the saved list can also be swiped individually to delete. Otherwise, the down vertical gesture control introduces a delete option that is reminiscent of iMessage. You swipe down, and you have the option to touch the circle icon that appears to delete multiple notes. You can also tell which items have been shared in the saved list, as the type is bold. You can access the full details of each note and where it has been shared with a touch on the note.
One interesting quirk of the Squarespace Note iPhone app is you share prior to saving it. When you swipe to the left, you can share to email, Dropbox, Squarespace, Evernote, as well as Twitter and Facebook. When you sync your Twitter account, the interface is unusual and exciting. You simply drag the Squarespace Note iPhone app icon on top of the Twitter icon. Then, you touch the following pop-up to authorize. Visually, it's interesting. When I posted my note to Twitter, I was surprised that there is no promotion of the Squarespace Note iPhone app in the tweet. It was refreshing, but it would certainly be reasonable for there to be promotion tied to a free productivity iOS app's social sharing feature. One additional relevant note regarding the sharing is a Squarespace account is not required to operate the app.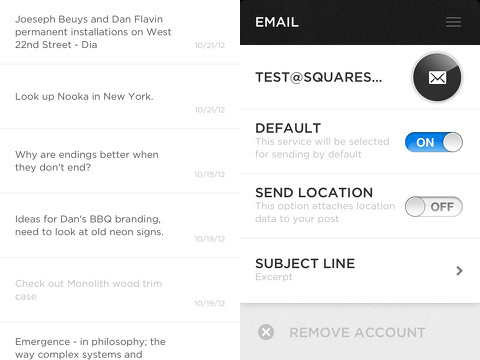 The Squarespace Note iPhone app is much more visually refined and sophisticated with its interface and gestures than many comparable iOS productivity apps.