The PowerCam iPhone app intends to be a one-stop iOS photography and video app filled with editing tools, vast one-touch sharing options, collage capability, and filter and effect application. And, it is a great idea to combine many popular, desirable tools into one iPhone app, but the dull interface and lack of graphic punch makes it seem dated and wonky.
The PowerCam iPhone app's in-app camera lets you shift back and forth between video and photography modes. You simply touch and swipe the desired mode to activate it. You can shoot a photo or video through the lens, or you can apply filters during the process by swiping them across the screen or tapping the random icon in the lower left hand corner. The icon in the bottom right corner gives you the chance to add a bold color splash, shoot a panoramic photo, create a tilt-shift image, add a timer, and add magic filters. These features work nicely and create interesting results, but the PowerCam iPhone app stalled and stranded me in that window. Hopefully, this will be fixed in an update. That's the frustration of the PowerCam iPhone app. You're able to do neat things, but the navigation and interface become far from intuitive and downright frustrating.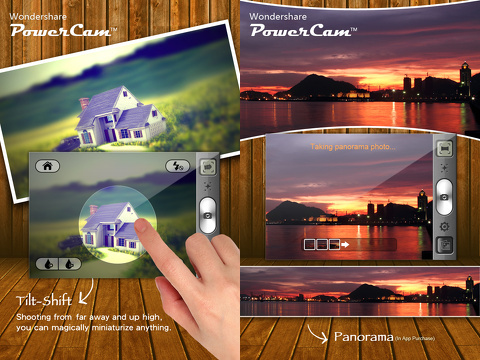 The PowerCam iPhone app photo editing capabilities are vast and generally well-organized. The interface for editing includes a couple of menu bars at the bottom of the screen. As you move through features like cropping, adding filters, and adjusting light, a second menu bar allows you to scroll horizontally through the selections. With a tap, the image adjusts to reflect your changes. There is a true level of detail you can get into with these photo and video editing features that may only appeal to iOS photography addicts.
You can also create photo collages with overly-complicated interface. There are two menu bars of icons to use to create the collage, but it could really be accomplished with just one. It seems like you should be swiping horizontally due to the arrows on the edge of the screen, but instead it treats the gesture like a tap. Again, there is a cool, popular feature that is just muddied up.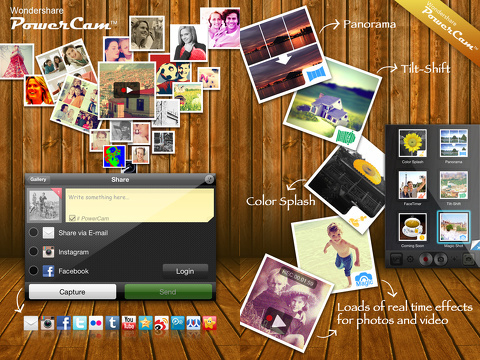 The PowerCam iPhone app has incorporated an incredible amount of sharing options. When you touch a share icon in the PowerCam iPhone app, there are four choices–share with friends, share via WeChat, send to WeChat Moments, and copy to camera roll. To access the most common sharing functions, you should select to share with friends. You can add a quick note, then share to Instagram, Facebook, Twitter, Flickr, Tumblr, and YouTube. You can also share your photos via wi-fi to your PC.
The PowerCam iPhone app has the bones to be great, but it just needs to streamline and develop a more intuitive, exciting interface.