The Permissions iPhone app helps you clean up and manage app and online authorizations. You no longer have to hunt through websites and privacy settings for each individual iPhone app to make adjustments. The Permissions iPhone app does the difficult work of helping you manage your privacy and sharing settings efficiently.
The home screen is straightforward and free of frills, as the Permissions iPhone app is a workhorse. The following social networks fill the screen: Facebook, Twitter, Google, Dropbox, LinkedIn, Yahoo!, Microsoft, Instagram, AOL, Foursquare, Flickr, and Familio. You can tap each icon and log in. Then, you will be transported straight to the privacy settings screen for each of these. You can adjust settings, or you can revoke the privileges with one touch on the revoke access icon. It is a simple process. You can set up an email reminder to check changes in settings weekly and monthly, as well.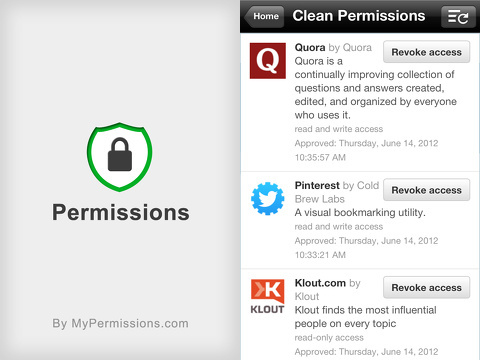 The only wonky aspect of the Permissions iPhone app is not a result that is intentional in the design of the iOS interface. Because the Permissions iPhone app is taking you straight to the privacy settings of websites and iOS apps, the interface and navigation is not necessarily seamless. For example, the Dropbox privacy settings were web pages that were displayed in my iPhone in a cluttered, jumbled way. I was certainly able to make adjustments and manage my Dropbox account, but it wasn't a beautiful, visual experience. On the other hand, the Twitter interface was nice and functional. With Facebook, the interface was a little laborious, and I wasn't always sure adjustments were changed. I had to double check. Again, these are not issues with the Permissions iPhone app. This is the challenge of syncing multiple social networks.
On the home screen, the block tool is a necessary stop. You manage what information your friends' iOS apps can pull from your Facebook profile. I thought I had my profile buttoned up nicely, but I was wrong. There is a list of 17 items that may be shared, so you will definitely want to make adjustments you feel are appropriate.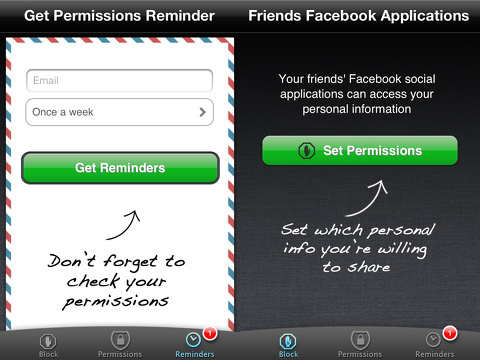 The Permissions iPhone app is highly functional and necessary. It puts you in control of your digital footprint.