The Sunrise Calendar. iPhone app syncs your Google, Facebook, and LinkedIn calendars with a fresh perspective. It is visually appealing and engaging, and the simple, intuitive interface elevates and inspires.
The Sunrise Calendar. iPhone app requires authorizations and permissions from Facebook, Google, and LinkedIn. For Facebook, it requests access to your information and your friends' events. You also authorize Google and LinkedIn to allow access to your calendars and other pertinent pieces of information. If you have shared Google calendars, then you can select the ones you want to sync with the Sunrise Calendar. iPhone app. You will also want to allow location services, since the Sunrise iPhone app updates the local weather for morning, afternoon, evening, and overnight. If you are uncomfortable with allowing permissions, then the Sunrise Calendar. iPhone app may not be for you. But, you may just want to give it a shot for a glimpse at the awesome calendar.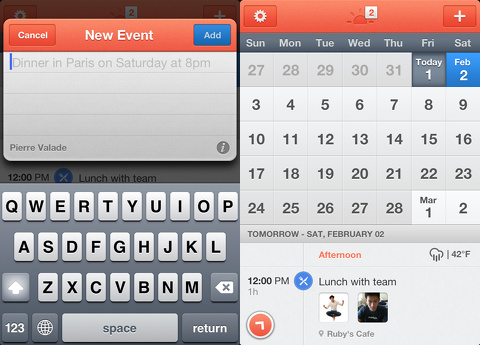 The Sunrise Calendar. iPhone app has a great home screen framed by a subtle orange menu. The top navigation bar allows one touch access to your settings, your invitations, and your ability to add an event. Just below the top navigation bar, you will find two weeks. If you swipe down on the two weeks area, the calendar will expand to a month, and you can continue to swipe through the months. You can move from one day to another with a tap on the date on the screen, or you can use vertical swipes to move from day to day.
Each day's events are listed at the desired time, and the free slots of your day are absent. Each event has a title, and other details are listed if you have added them to your calendar. A neat touch is the ability to figure out which calendar is associated with an event due to the colored dot of a Google calendar or a logo from Facebook or LinkedIn. Facebook birthdays are included at the end of every day, and the weather is inserted at the appropriate slot on your calendar. You can also add events and invite participants through the Sunrise Calendar. iPhone app interface, and they will sync with your Google calendar.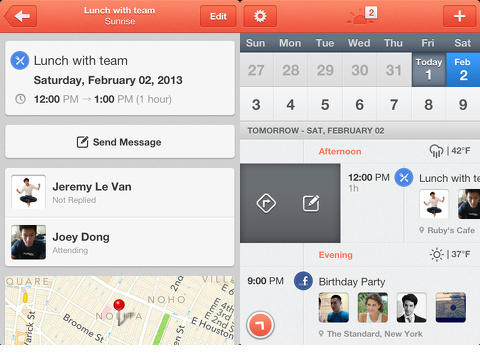 The Sunrise Calendar. iPhone app brings visual presence to a Google calendar, and it takes the frustration of multiple gestures to find details about a Facebook event. For each Facebook event, you can go straight to the event wall, see who is coming, and find out the event's details with ease.
As a next-generation calendar iOS app, and Sunrise Calendar. is beautiful, functional, and engaging.