Google's Field Trip iPhone app introduces you to unexpected places and events near you. Using location services authorization and content from interesting websites, you can learn about your local history, the nearest open mic night, art exhibits, festivals, and more. The content is neatly organized and sorted in an attractive, modern travel journal aesthetic.
The Field Trip iPhone app starts with a Google sign-in and notification settings. The notification settings allow you to choose from three options–explore, feeling lucky, and off. The explore setting updates you frequently, as new events and attractions are discovered and added. The feeling lucky option provides occasional notifications. These can be adjusted at any time by touching the hat icon in the top of the screen. So, if you are visiting a new city, it may be fun to turn them on and check out your surroundings.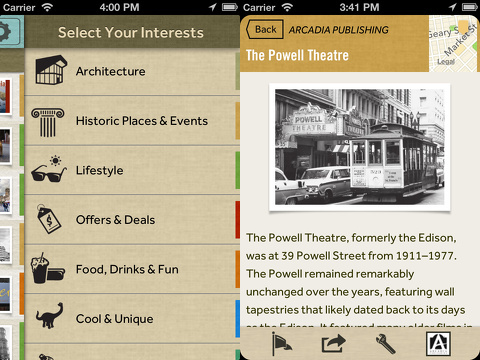 Then, you jump straight into the Field Trip iPhone app home screen. It has a list of nearby attractions and events under two navigation bars at the top of the screen. The top menu bar has three icons with the following options: categories, notifications, and settings. You should go straight to the interests icon to select your preferences. From there, you can also select the websites Google uses to drive the content. The options are fantastic, fascinating, and unusual. They speak to a wide range of interests like The Historical Marker Database, Architizer, Saveur, Zagat, Atlas Obscura, Public Art Archive, and more. The next menu bar allows you to sort your list by map, nearby, recent, and favorites with one touch.
For each item in the list, the source, name, distance, and a small photo are displayed. With a touch on the item, you move to a nice screen with pictures scrolled with horizontal swipes followed by an article or additional pertinent details. You can read about a historical marker you drive past every day. You can find out the date, time, and location of an upcoming event. For each item, you can touch the flag to add to your favorites and share to Google+, Facebook, and Twitter.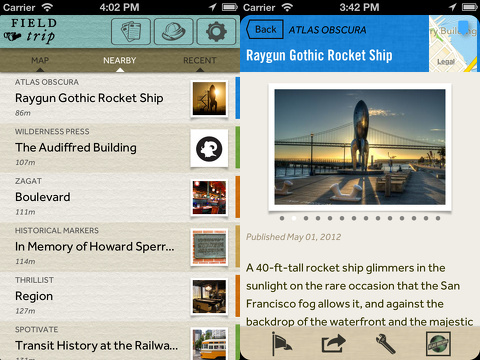 The Field Trip iPhone app's strength is the cool, unusual content. It is generally well-written, informative, and engaging. It's a breath of fresh air and cool perspective to location-based, here's-what's-happening-around-you iOS apps.