Are you a seasoned photographer or simply ready to elevate your iPhone camera's cabilities? The SetMyCamPro iPhone app is loaded with tools, functions, and real camera settings to help you shoot great photos.
The SetMyCamPro iPhone app has an in-depth introduction and quick links to resources to help you maximize its tools. The home screen has top and bottom menu bars with the same options. The top bar simply has abbreviations, and the bottom menu bar has abbreviations and a graphic to describe the icon. To get started, the first place you will want to check out is the set-up icon. You select from a range of specific cameras by Canon, Hasselblad, Leaf, Leica, Marriya, Nikon, Olympus, Panasonic, Pentax, Phase One, Sigma, and Sony, as well as cameras for specific formats. You turn the flash on or off, but you can also turn the flash on and off in the camera interface. Finally, you select a distance on a dial for your subjects. The distance can be calculated in several different dimensions.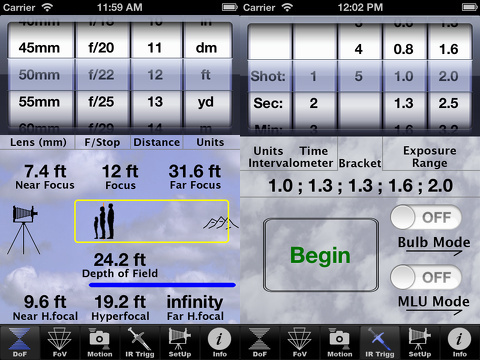 The Depth of Field or DoF icon leads to intricate, yet surprisingly streamlined interface. You set your lens by swiping vertically through a range of sizes. According to the distance previously established in set-up, the near focus depth, focus, far focus, and depth of field are calculated and presented. If you decide to change the distance of focus on the dials, the information adjusts to reflect your changes.
The Field of Vision of FoV icon gives you a chance to make a range of adjustments with smart tools, as you snap your photo. With agile, responsive gestures, you can adjust brightness, turn the flash on and off, add a grid, and adjust the lens. Additional unexpected tools that pop into the camera screen are histogram, image stabilizer, and enhancement tools. You tap the image capture icon in the upper left hand corner to capture your images. The images are saved in your iPhone photo library, so you can adjust in a different photo editing iOS app or share.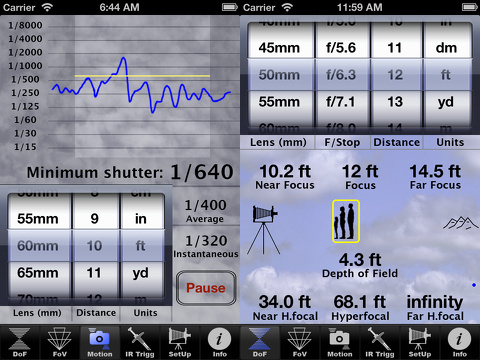 The $5.99 iTunes App Store download is a reasonable expense for the highly customized features. Developed by professional photographers who want to add functionality, the SetMyCamPro iPhone photography app is trying to rid the world of blurry, grainy iOS photos one by one.