The Mailbox iPhone, iPod Touch, and iPad app streamlines your Gmail inbox with agile gesture controls, lists, and smart tools. The Mailbox iPhone app is limited to Gmail accounts, but it will accommodate multiple Gmail accounts.
The set-up is simple. You simply sign-in to your Gmail account and authorize access. When you authorize access, you are allowing the Mailbox iPhone app to view and manage your email and contacts, as well as know who you are on Google. The Mailbox iPhone app does request permission to operate when you are not using it. My Gmail inbox is not particularly tidy, and I didn't notice a large drain on the battery life.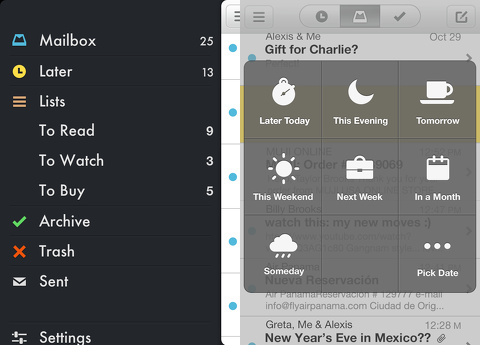 While the Mailbox iPhone app completes its sync, you are introduced to the gesture controls and features with simple, effective pop-ups. A short right swipe archives the message. A long right swipe trashes the message. A short left swipe allows you to view the message later. A matrix of options pops-up, so you can decide to view later today, this evening, tomorrow, this weekend, next week, in a month, someday, or pick a specific date with a tap on the appropriate icon. A long left swipe adds the email to a list like to read, to watch or to buy. You can also customize a list. The gesture controls are effective, and, just in case you may be nervous about performing the wrong gesture, each gesture and its specific function are color-coded. As you dig into the Mailbox iPhone app, you will know yellow means later and brown adds to a list.
The Mailbox iPhone app includes a sliding left menu and top menu bar for easy navigation. A touch on the icon in the upper left corner allows you to access your later items, lists, archives, trash, and sent with a touch. The top menu bar includes three icons–later, mailbox, and archive. You can also write a message from the Mailbox iPhone app with a touch on the icon in the upper right hand corner.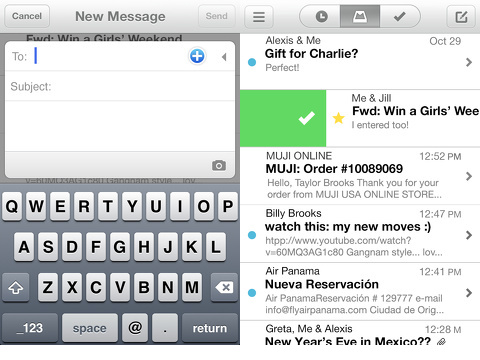 Perhaps, the coolest feature of the Mailbox iPhone app is the chance to clean up your Gmail inbox. You can select to archive everything, archive all except unread, or archive all except starred.
The Mailbox iPhone app brings intuitive gestures and smart tools to your Gmail inbox. The chance to trash the sale email from one provider, but add an interesting, desirable one to a to buy list is cool. You can create lists to organize by clients, kids, volunteer activities, and more. When you get that email that requires a clear head, you will appreciate the chance to revisit it tomorrow or later tonight. For Gmail users, Mailbox is a handy productivity iOS app.