Locked out? Can't swing the landlord's lock-out fee or just don't want to pay it? The KeyMe iPhone app creates digital copies of your keys that can become physical keys with the help of a locksmith. It incorporates cool features like sharing the digital copy with friends and family and purchasing additional keys by mail with a couple of touches on the screen. The KeyMe iPhone app is a free download; however, to access all of its functions and features, there are additional in-app fees.
The KeyMe iPhone app opens with four slides to help you acclimate and assure you of its security. By using your iPhone's camera, it creates a digital copy of your key. You assign it to a keychain, and a locksmith can follow instructions to cut you a new key. The secure servers specifically eliminate the possibility of connecting your key to a location or lock.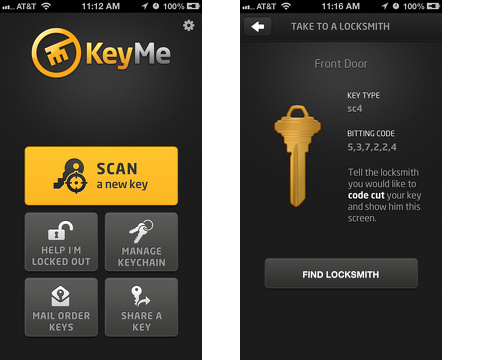 The process to create a KeyMe iPhone app account helps you understand and feel comfortable with the layered security. It requires a two-step verification–email and credit card verification. The credit card verification is similar to using a credit card to check-in at an airport kiosk. It is simply verifying your identity, and will only charge with your authorization. After you use the KeyMe iPhone app, you will find there are typically two or three touches required to verify authorization. You can manually enter credit card info or scan it. The scanning process is quick, easy, and cool. You must also verify your email address on your iPhone. You open your email account and touch the link. The authorization opens in Safari, but automatically redirects you back to the KeyMe iPhone app seamlessly. This process may not seem like a big deal, but many iOS apps do not redirect you to the app interface. Developers naively suppose you will never get distracted and move elsewhere on your iPhone.
The home screen has five options in a grid with complementary icons–scan a new key, help I'm locked out, manage keychain, mail order keys, and share a key. In order to scan a key, you must follow four steps concisely explained in the pop-up. The key must be completely free of any covering and placed against a white background. You must hold the phone four inches above the key and match the colored corners in the scan view. The camera may snap one or several shots, then you are instructed to flip the key and repeat. You have a chance to name the key before it is analyzed. You are warned that the process may take a couple of minutes, and you are notified when the process is complete.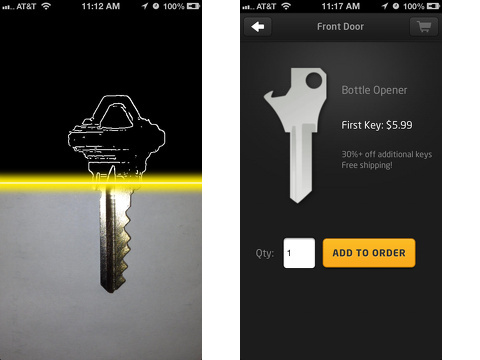 When you're locked out, you can touch the help icon from the home screen. A new screen opens with two simple options to find a kiosk or take it to a locksmith. You authorize location services, and a map with kiosk locations opens. It appears the only kiosks currently operating are five locations for lucky folks in Manhattan. A map with nearby locksmiths is available as well. The fee to access the information needed for your locksmith is $9.99. You make payment through the KeyMe iPhone app, and you will also be responsible for locksmith's fees. Before you authorize the payment, it tells you to ask if the locksmith "code-cuts" keys. If your locksmith does, then you are golden. You can also purchase all sorts and styles of keys for mail delivery from the KeyMe iPhone app. The keys available range from favorite sports teams to geek to cheetah print. You can also share the information needed for a code-cut of the key via email to family and friends.
The KeyMe iPhone app is a tremendous use of technology. Lock outs happen, and, hopefully, at that moment you'll have your iPhone in your pocket.