Zoom
User Reviews

PhoneView is a software for MAC that lets you store files on your iPhone or iPod touch along with a ton of other features. Phone View was previously called iPhone Drive. You can download a free demo from the ecamm website or buy the full version of the Mac Software for $19.95.
Here are the full features provided by PhoneView for iPhone:
– Backup and search your SMS Text and multimedia messages.
– Backup your iPhone's voicemail audio files
– Save your recent calls
– Browse data created by apps from your iPhone, iPad or iPod Touch
– Use your device as a portable USB disk
– View and manage your iPhone contact list
– Access your Mobile Safari bookmarks and web history
– Download Photos and videos from your device
– Directly play any music stored on our device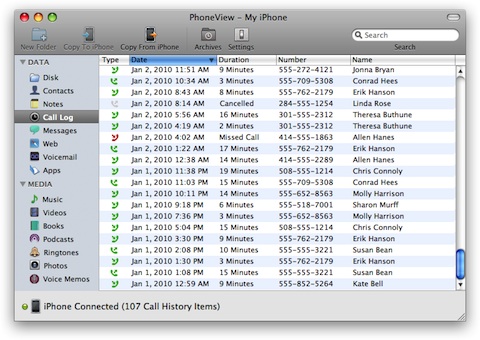 This 3rd Party App is available at the Apple iTunes AppStore. Browse the full list of all AppStore apps filed under the AppStore category.
Download PhoneView from the ecamm website
Price: $19.95