Mundu IM Pro is a instant messaging client which lets you keep in touch with your friends across various services such as
– Yahoo
– Gtalk
– MSN
– AIM
– Facebook
– XMPP
Unlike most other instant messaging clients which give you the look, feel and experience of a desktop application , Mundu IM Pro has been designed keeping in mind the iphone user.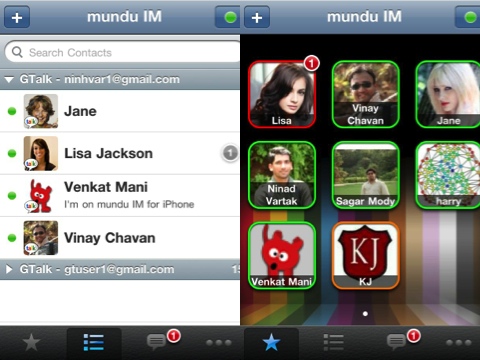 Features:
– Intuitive and highly usable User Interface.
– Connect to multiple accounts and services at the same time.
– Archive all your conversations, so that you can refer to them at any time. Also you can e-mail chat conversations directly from the application.
– Manage all your important contacts using the favorites screen.
– Switch between multiple conversations easily using the active chats screen.
– Set custom time-out period. Select how long you want to remain online while the app is running in the background.
-View contact's profile picture and also set your own profile picture form within the application.
– Search Contact/Chat History in one place by using the search bar.
This 3rd Party App is available at the Apple iTunes AppStore. Browse the full list of
all AppStore apps
filed under the AppStore category.