Adobe Photoshop Express is Adobe Systems' photo editing app for iPhone, iPad, and iTouch. Adobe Photoshop is one of the most powerful and accessible photo editing softwares available for the computer, so I was curious to see how their iOS app would measure up.
PS Express is both a camera app and an editting app. Let's start with the camera. I wasn't blown away by the photos in comparison to the native camera, I took a few shots for side-by-side comparisons and they generally looked the same. For $3.99 you can purchase the Adobe Camera Pack which adds a self timer, the option to review a photo and discard it before it is saved, and noise reduction. The noise reduction feature smooths out any grain and imperfections which may exist in your photos, which is useful, but perhaps not $3.99 useful.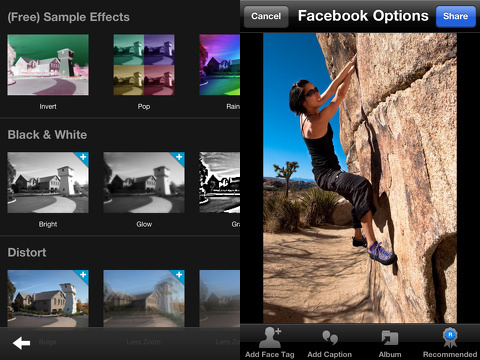 The photo editor offers some basic options to tweak your photos with. You can import any photo from your device to the app for editing. Photos can be rotated, flipped, or cropped to desired size and dimensions. Most filters and effects are controlled by sliding your finger across your screen to the desired amount of each adjustment. Color contrast, hugh, saturation, tint, temperature, exposure, and brightness are all adjustable with the swipe of a finger. The app boasts 45 different effects which can be previewed but won't be applied until after purchasing the Adobe Effect Pack for $2.99. In addition there is also an Adobe Border Pack for $1.99, which like the effect pack can be previewed but not used until the pack is purchased. The Border Pack comes with 40 borders and frames to choose from.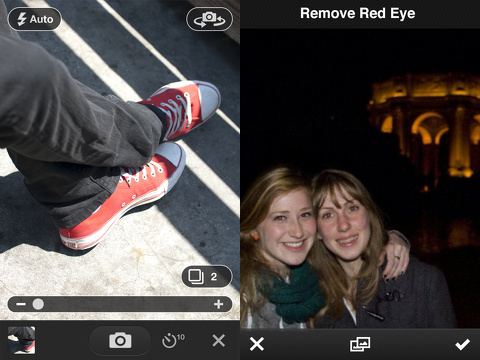 Adobe Photoshop is an extremely powerful tool, but due to the limits of iPhone/iPad cameras Adobe was forced to severely reduce its features for its iOS app. I don't really hear of anyone taking photos on their iPhone and uploading them to Adobe Photoshop for advanced editing sessions, so it wouldn't make much sense for Adobe to try to emulate its computer program. That being said the number of features are a bit limited. The add-on packs may not be worth their price tags since they are available in some other apps for cheaper, but they do offer some useful features. The app itself, however, is free and worth taking a look at.
This 3rd Party App is available at the Apple iTunes AppStore. Browse the full list of
all AppStore apps
filed under the AppStore category.