Activating Emoji on a new iOS 5 device or iPhone 4S
Emoji keyboard (Japanese picture emoticons) is now a basic feature of the iOS 5 software in all iPhone, iPod touch and iPad devices. Prior to iOS 5 you needed to download an app to turn this feature on. Starting with iOS 5 you can now turn on a new Emoji keyboard very easily.
To setup Emoji in iOS 5 just follow these steps starting in the Settings app.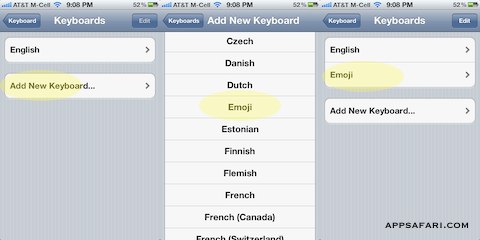 Go to
1) Settings
2) General
3) Keyboard
4) International Keyboards
5) Add New Keyboard
6) Emoji
Now when you view a keyboard, tap the world icon on the keyboard and you will see the new Emoji character keyboard. Tap the world icon again to go back to the English keyboard.