The Up To iPhone and iPod Touch app integrates your iOS calendar, Facebook calendar, and helps you identify upcoming events that may interest you with a simple, uncluttered interface. iOS calendar apps frequently sync and display everything, but the Up To iPhone app allows you to decide what events are important. It is a free download from the iTunes App Store.
A quick tutorial explains the gestures and interface. Your iOS calendar is the main screen, and a tap on the bottom square icon expands event options. Suggested events are in blue fields that you swipe and tap to add to your calendar. You can also pinch and spread the blue lines in your iOS calendar to reveal suggested events.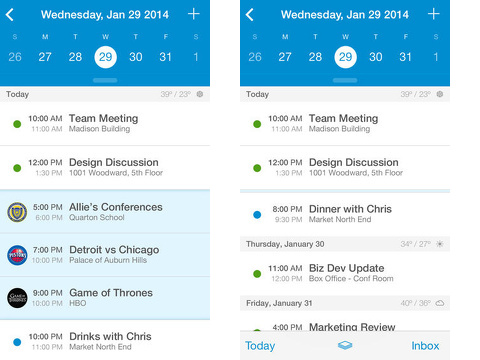 The process to set up your Up To calendar involves several steps, but it moves quickly. You authorize access to your iOS calendar. All subscribed and synced calendars to your iOS calendar are automatically authorized and available on your Up To iPhone app including Google and iCloud. You can create an email account or use a Facebook sync. Up To does not post to Facebook, but it does require access to basic profile, list of friends, news feed, and events. Next, you add categories of events that would be interesting to create your suggested event lists. The categories range from holidays, movie releases, book releases, video game releases, sports, TV shows, and concerts. It uses your location to suggest sports teams and concerts. The distance includes local events, as well as road-trip-worthy events. You may also search cities, so it would be a neat tool for travel.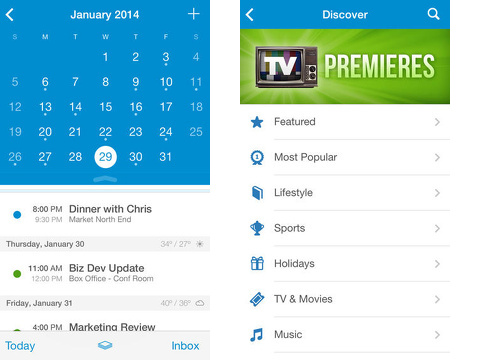 The calendar is familiar and intuitive. The high and low temperature is displayed next to the date. Your events are listed. You can create events and invite attendees by touching the inbox icon. The square icon in the bottom of the screen allows you to access the suggested lists. If you follow a sports team, you can stay on top of the games with the suggested list. You may add the suggested event to your calendar with a swipe and tap to add. Or, you use the same gesture, but tap "hide" to delete it.
The Up To iPhone and iPod Touch calendar app helps you stay on top of your schedule and explore interests with ease and elegance.