The New iPad – not iPad 3 and not iPad HD

Live Updates from the Apple iPad 3 (iPad HD) Keynote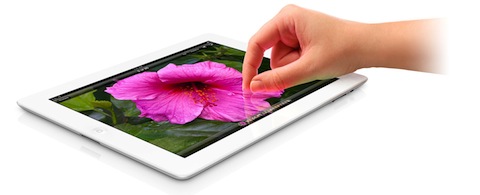 – No Siri
– No "One More Thing", and No Name for it, just called "The New iPad"
– Calling it "the new iPad" so far… hmmm
– Recap of features, no word on name yet.
– Features in iPhoto app for iPad (Multi-Touch Editing, Professional Quality Effects, Brushes, Photo Beaming, Photo Journals, Smart Browsing)
– Photo Streaming – zap your photos to your other devices
– New iPhoto feature called Photo Journals
– iPhoto for iPad is coming, has new edit and browse features
– iMovie update demo (can create trailers)
– Demo of 4 iPads using Garage Band together
– iLife apps Garage Band ($4.99), iMovie updated as well
– iWork updated ($9.99) free update
– Wow "More memory and higher screen resolution than an Xbox 360 or PS3."
– Unreal Engine mentioned
– Epic Games, demo of new Infinity Blade game, Dungeons
– Autodesk showing new app called SketchBook Ink (like SketchBook Pro) available in April
– Demoing a fighter jet game
– Preorders start Today!
– No name mentioned yet, no Siri mentioned yet…
– 16GB, 32GB, 64GB (same prices as before) $629 $729 $829 Wifi + 4G
– 1.4 lbs 9.4mm (iPad 2 is 1.33 lbs)
– Starting at $499
– New iPad features so far: Retina, A5 Chip, 5 Megapixels, Video, Dictation, LTE, 10 hour battery life on 3G
– New iPad will have a hotspot feature
– AT&T and Verizon iPads are separate devices
– Apple is negotiating for LTE with AT&T, Verizon, Rogers, & Telus
– No video buffering using LTE
– Apple's first LTE Device
– Maximum Battery Life demo using LTE
– 4G LTE support! at 73Mbps
– There is a microphone on the keyboard for dictation, in 6 languages
– Voice Dictation!
– Showing sample videos, temporal noise reduction for low-light video
– 40% improved color saturation, zooming in looks amazing
– 1 million more pixels than HDTV
– That's 264 pixels per inch
– 2047 x 1536 pixels
– Will have Retina Display (confirmed)
– New iPad, so far looks like the old one, demo starting
– More iPad stats, 200,000 apps and counting etc.
– Chart showing Apple iPad at 15.4M units, higher than HP
– iPad talk starting now
– New Apple TV released on March 16th, $99 preorders today
– iOS 5.1 will be released today
– Siri will be released in Japan
– Apple TV now has icons for all the apps instead of the menu system
– New Apple TV with 1080p Support
– 100 million people are using iCloud
– The 25th billion app was downloaded in China
– And iOS 5.1 will be available today
– Tim talking about Apple Stores opening, the newest retail store, in Amsterdam

As expected, and according to a breaking story from CNet, the next version of the iPad will be called iPad HD and not iPad 3 as has been circulation in the rumor mill lately. iPad HD is the first of the iPad series to break away from the numbering system, in order to place emphasis on the high definition retina display and superior resolution graphics processor on the device. As expected, the rush to register domain names with the words iPad and HD has begun, including ipadhd.com iPadHD.co.uk and ipadhd.biz to name a few.

A new video from the MICgadget blog shows the new iPad 3 (which maybe called iPad HD) shell and goes over the changes from iPad 2, which includes a thicker casing. The new iPad will thankfully support the existing Smart Cover accessory from Apple. Take a look at the video below. Oh and the background music might force you to break out into an 80s dance routine.


Apple has started sending out invitation to an iPad event set for March 7th 2012 to be held in the Yerba Buena Centre for the Arts in San Francisco at 10am PST. The event teaser reads: "We have something you really have to see. And touch" and is expected to cover the details of the new iPad 3.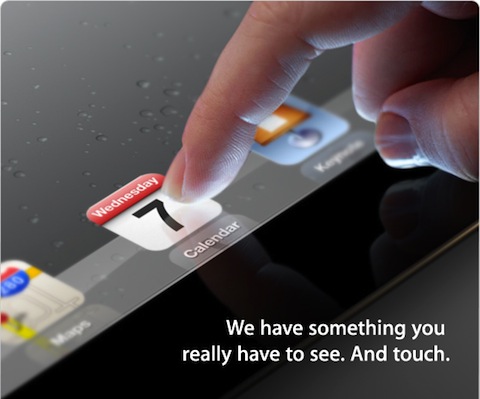 As reported by Macrumors, a post on a Chinese blog Sina Weibo includes pricing information for the iPad 3 which you can see below. The pricing for iPad 3 is compared to the iPad 2 and as the graphic shows may be on average 8-10% higher The price for the highest model iPad 3 (64GB+WiFi+3G) is estimated to be $899, which is up $70 from its iPad 2 counterpart. The higher price is most likely due to the higher resolution retina display, a faster chip, larger battery and a better camera. In case you are wondering about the large numbers in the last column, that is just the iPad 3 price converted to Chinese Yuan.



Happy Valentine's Day! Apple is working on a smaller form factor iPad reports the Wall Stree Journal today. As was earlier rumored this week, the WSJ story confirms that Apple is in fact at least testing and possibly planning to release a "mini" iPad that will be about 8″ according to reports from suppliers of Apple. Steve Jobs had previously stated that "the minimum size required to create great tablet apps" would be the current size at 9.7-inches. The new 8-inch iPad is rumored to be priced and positioned to compete with the success of the Amazon Kindle Fire. Here are some fun names we thought of for the new smaller iPad: iPad Fire, iFire, iPad Mini, Honey iShrunk the iPad. The smaller iPad would maintain the current screen resolution of the iPad 2.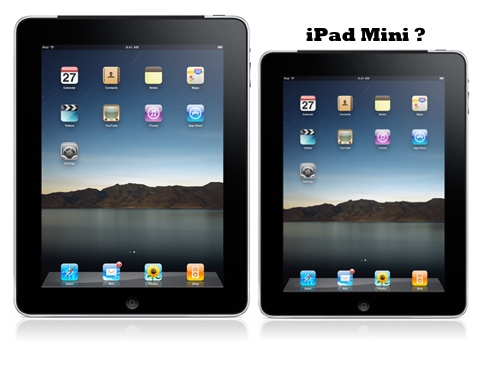 Breaking: Wednesday, March 7th, 2012 is the date Apple will presumably announce the new iPad according to a report by iMore who is citing a "reliable" source. The new iPad may also support the new blazing fast 4G LTE network from AT&T, and as stated earlier this month it will also run on a souped-up quad-core A6 chip.
First: iLab Factory, a Japanese blog and repair service has posted photos of what is believed to be parts of a the new iPad 3 prototype. The parts include an LCD screen by Sharp.The back panel is about one millimeter thicker while the overal dimensions remain the same.
Second: Prices of the iPad 2 have dropped at US retailer Meijer by $70 down to $429 which may or may not be related to a March iPad 3 release date.
Third: An employee at Target has stated that they are updating their systems to include the new iPad.
Finally: The name of the new iPad is now in question as well. Some believe it will be iPad 3 while others feel it will just gain an extra "S" as with the iPhone upgrades earlier.



Ezra Gottheil who is an analyst with Technology Business Research spoke to Computerworld about the iPad 3 rumors. The new piece of information coming out of that interview is the possibility of a new 7″ iPad alongside the new iPad 3 release. The new seven inch tablet could possibly be priced lower to compete with the hot new Kindle Fire from Amazon. Gottheil also states that Siri will be there on the new iPad as well as confirms the notion of having a higher resolution display, which will double the resolution of the current 9.7″ iPad. The resolution of the iPad 3 is estimated to be 2048×1536 which is more pixels per inch than any other Apple product besides the 27-inch iMac. Cult of Mac has created a nice graphic that displays this information.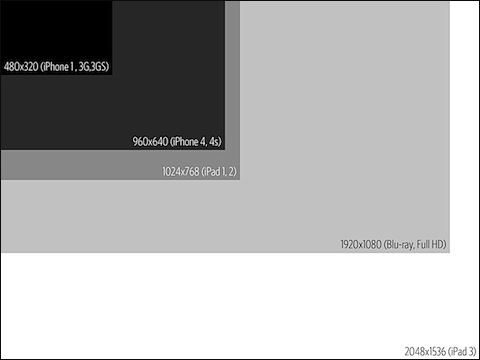 More iPad 3 updates for you today. Apple may be announcing its a new iPad 3 during a press event in San Francisco as early as next month (March). According to the NY Times blog, a source who is simple named an "Apple Employee" touted the new iPad as having a "truly amazing" screen. This confirms the rumors that the iPad will have a Hi-Res screen. Earlier in February, All Things D also hinted that March will be when Apple reportedly plans to announce the new iPad. No actual date has been released for said event as of now by Apple.

A photo of the inside of the rear cover of the iPad 3 has been released via RepairLabs today that suggests the iPad 3 will contain a larger battery perhaps offering longer battery life. The stronger battery could also be there to support the new more powerful A6 processor or perhaps an upgraded hi-res retina display.

Feb 1st 2012
The iPad 3 is set to be released sometime in 2012, and the rumors and leaks are coming in already. According to a report from BGR, the new iPad 3 will have a quad-core A6 CPU and have an option for using the 4G LTE wireless service. There are now iBoot screenshots from a leaked iPad 3 that reveal more details.