App Review Writers Wanted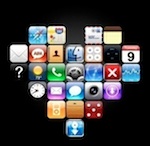 Do you heart apps? Are you obsessed with playing iPhone games? Do you live and breath the App Store? Are you always on the lookout for breaking news on the latest Apps? Got an iPad 2 and love trying out new apps? Is your iPhone overflowing with neatly organized folders upon folders of apps that you want to share with the world?
We wanna to hear from you, and so do millions of AppSafari readers. Do you have great writing skills and want to get noticed? We are looking for good writers with a passion for everything apps. Writing for AppSafari means you'll get exposure to millions of visitors every month plus you get a personal author page containing your own byline and links to your website and Twitter page. You will also get free apps! Cash compensation is given in special cases as well.
You Get
Free Apps!
Just about anything you want to review, is yours free of charge. Just as long as we haven't reviewed it in the past.
Your Own Author Page
On your page you will not only get credit for all your reviews, but you can have links back to your own websites, and social media accounts.
Plus depending on your experience level compensation may be available.
Get Started
Do you have what it takes? Are you ready? Getting started is simple. Just fill out the form below. Be sure to include your contact information, a resume or samples of your writings. Also tell us what iOS devices you own. We will get in touch with you soon.