How to delete photos from your iCloud Photo Stream (3 ways)
iCloud is great, but if you're like most people, you don't like not being able to delete photos from your Photo Stream. Whether you don't want silly screenshots showing up on all your devices or are concerned about privacy (NSFW) issues, there are now methods for addressing this nuisance. Here are 3 ways you can remove photos from your Photo Stream; two are done manually and one is done automatically.
Automatic Removal:
As of right now if you setup an iCloud Photo Stream you can't delete the photos from your Photo Stream library, they will sit there until they fall off the end. iCloud stores 1,000 photos in your Photo Stream for 30 days, so once you pass any one of these 2 things, photos will automatically get removed from the Photo Stream.
Manual Removal:
Method 1: Rest your iCloud Photo Stream
This method involves completely wiping away all your photos from your Photo Stream. It's not ideal, but for right now it is the only way (see Method 2 below, which is coming out soon). To reset your entire Photo Stream follow these steps:
Log into your account at icloud.com
On the top right of the page click on your name
Click Advanced
Click Reset Photo Stream and Click on Reset to confirm.
To remove the photos from your iPhone, iPod touch, iPad, or iPhoto: Open the apps to your iCloud settings, then Turn off Photo Stream and then turn it back on. For iOS devices this is located under Settings > iCloud > Photo Stream & for iPhoto you'll find this under Preferences > Photo Stream > Enable Photo Stream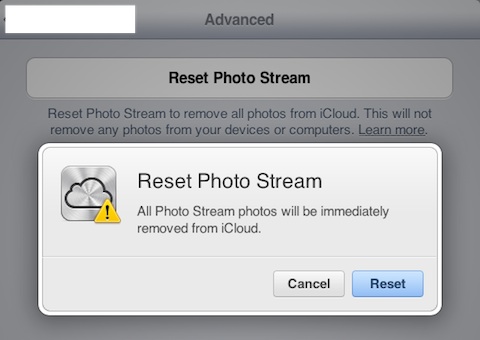 Method 2: Individual Photos (coming in iOS 5.1)
Apple has released iOS 5.1 beta 2 which now gives iCloud users the ability to delete individual photos from their Photo Stream folder. Once you remove a photo from your Photo Stream, it instantly gets deleted from all your other devices that are logged into the same iCloud account. To delete Photo Stream photos from your iOS devices running iOS 5.1 follow these steps:
Open the Photo Stream folder on your iPhone, iPad, or iPod touch from the Photos app.
Select the photos you want to delete from Photo Stream
Tap the new Trash icon on the top right of the Menu bar
iOS will confirm that this photo will be either removed from all your devices, or just the one you are on (depending on where the photo has been copied to so far). Confirm by tapping the big red Delete Photo button. Voila, now you can manage individual photos in your Photo Stream
Here is a video demo of the new individual photo deletion feature coming in iOS 5.1 for Photo Stream users, from Mike Flaminio at Insanely Great Mac.