iPhone 5 Rumors and News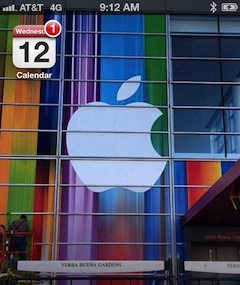 The next iPhone is here, and it is called the
iPhone 5
. Here you can find a compiled list of release notes from today's press event by Apple along with pricing information and specs. There are also details on other releases today including new iPod touches with Siri support. You can also find historic rumors, concept designs, photos, videos, and breaking news on the new iPhone compiled from many sources.
Survey
Are you pre-ordering your iPhone 5 on Friday?
No – Waiting for my contract to end (28%, 8 Votes)
Yes – 32 GB model (21%, 6 Votes)
Yes – 16 GB model (17%, 5 Votes)
No – Waiting for iPhone 5(x) (17%, 5 Votes)
Yes – 64 GB model (14%, 4 Votes)
No – Not an iPhone user (3%, 1 Votes)
Total Voters: 29

Loading …
Unlimited Data Plans for iPhone 5 AT&T will let you keep your unlimited data plans when switching to the iPhone 5. A quote from AT&T Mobility president & CEO Ralph de la Vega states: "We offer customers the flexibility to keep the iPhone data plans they already have." Verizon on the other hand may let you keep your unlimited data plan with a catch. Verizon said today that only if you buy a new iPhone at the full retail cost, then it will allow customers to keep their existing unlimited data plans. So in other words, you're gonna have to pay. See below for pricing details. Call these numbers to see if and when you qualify for a subsidized upgrade to the iPhone 5. You will get back a text message with the details. AT&T: *639# Verizon: *#874 iPhone 5 Pricing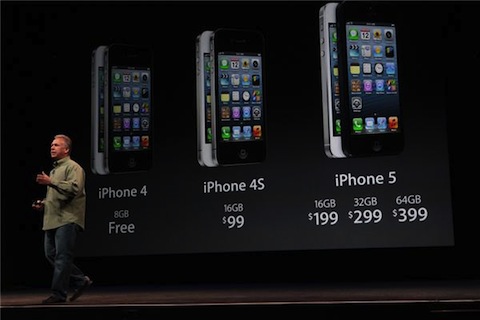 With a new 2 year contract & if you qualify for the upgrade from your carrier: 16GB $199 32GB $299 64GB $399 Subsidized Retail Pricing – normally a few months before your contract runs out: 16GB $449 32GB $549 64GB $649 Full Retail Pricing – if you don't qualify for an upgrade at all: 16GB $649 32GB $749 64GB $849 New iPod touch Pricing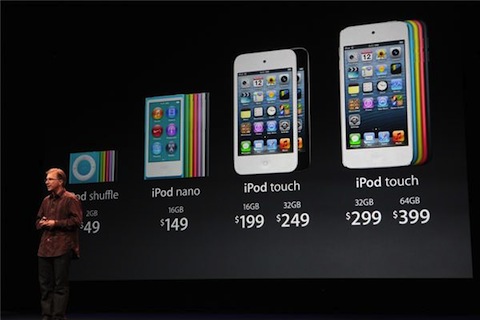 iPhone 5 Specs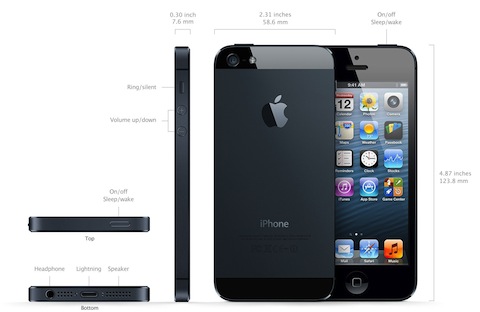 Live updates from the iPhone 5 Event today
– Foo Fighters performing on stage – Tim reviewing – Showing a new Ad – Red models now available – New iPods out in October – EarPods updated headphones ship with new Nano and iPod touch – Loop on the back of the iPod touch = wrist strap – New iPod touch – faster cpu, better camera. – New 7th generation Nano, round app icons – iPod updates next – New iTunes in late October – Concert dates and Concert Tickets in iTunes – iCloud movies sync positions across devices – Mini Player now looks great and has search drop down menu – Coming Next lets you change order of upcoming songs – Easier access to your playlists – iTunes demos look much simpler with the redesign – Showing the new iTunes interface – New iTunes coming for Mac and PC with improved performance & design – You can leave while previewing a song in iTunes now – Eddy Cue on stage – Music updates! – iPhone 5 Pre-orders start on Friday the 14th. Shipping on September 21st in the US, Canada, UK, Germany, France, Australia, Japan, Hong Kong and Singapore. – Contract Pricing: $199 for 16GB, $299 for 32GB, $399 for 64GB – same as 4S – iPhone 4S is now $99, iPhone 4 is now free – Johnny talking about manufacturing process – Johnny Ive talking about the iPhone 5 features – 2 Colors, Black (slate aluminum) or White – Send SMS back to caller if you can't take the call – Movie recommendations – Launch apps by voice – Get score updates on NFL from Siri – Siri updates – Photo Stream sharing – Passbook (coupons, movie tickets, flights) – Safari with full screen view & iCloud tabs – 3D maps – Maps with Yelp and GPS – iOS 6 – Connector update: 80% smaller, thin, dock connectors and convertors – Wideband Audio – Three Microphones: Front, bottom, back – 1080p HD video, 720p FaceTime – Panorama mode built in, 28 megapixel images – Sapphire crystal lens cover – iSight: 8MP sensor, dynamic low light mode, Precision lens alignment – Battery Life: 8 hours 3G talking time – Phil back on stage – EA showing demo of a game: Real Racing 3 – A6 chip (2x faster CPU) (2x faster graphics) – Coverage: USA: Sprint, at&t, Verizon – 4G LTE antenna – 44% more color saturation than iPhone 4S – Old apps are not scaled or stretched! Just a black stripe? – More events on the Calendar app – A new row of icons on the screen – 1136×640 wide resolution 16:9, 326 ppi, retina display – 4″ diagonal – 112 grams 20% lighter – 7.6mm 18% thinner – Metal Back – Taller – iPhone 5 – That's the name – Phil Shiller is on stage – App Store stats – Average customer uses 100 apps – iPad stats now, 84 million sold through June – Mountain Lion OS, 7 million upgrades – Mac updates – Retail store updates first, not so exciting yet. – Tim Cook is out on the stage… "we've got some good stuff to show you" – Event is set to start shortly… – Media guests are now entering the venue to find seats. – The Apple store gone offline in preparation for the media event. – Photos posted last night
on Flickr
by Ekkapong T showed us the colorful curtains at the event. Rumor has it that those are just elongated app icons for various apps on the new iPhone. Sources: –
Engadget
–
Ars Technica
–
The Verge
–
MacRumors
–
The Loop
–
gdgt
–
Macworld
–
AllThingsD
–
CNET
–
SlashGear
–
AnandTech
iPhone 5 is coming today
Today Apple will announce the new iPhone 5 alongside a few other device updates including updates to the iPod touch and the iPod Nano. You can confirm this by doing a
search on the Apple website for iPhone 5
, as noted by MacRumors and find URLs to press releases and tips pages for the upcoming devices.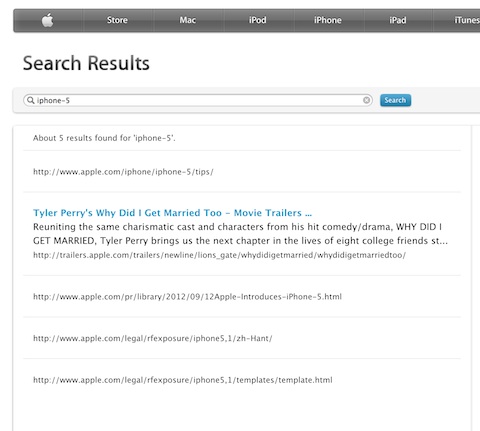 Video Footage of Taller Screen in iPhone 5
Posted by a Japanese weblog,
Macotakara
, this video illustrates the front display panel of an iPhone 5 and how it trumps the size of the iPhone 4S screen. This iPhone 5 part has somehow been leaked from vendors. The front glass panel is bout 10mm high and measures 4.07″ (10.33 cm) diagonally. This confirms the larger 1136×640 16:9 resolution rumored earlier last month.
iPhone 5 Maps app revamped for iOS 6
Yesterday Boy Genius Report
posted
a screenshot of what is supposed to be the new look for the Maps app. This change is part of the upcoming iOS 6 refresh, which is to be announced at
WWDC 2012
at 10am PST on June 11th and used in the iPhone 5. Below is a screenshot of the current iPhone 4S Maps app as compared with the newly revealed iPhone 5 Maps app. Few things to note are: There seems to be a move away from
Blue
and towards
Silver
in the user interface, which some say may just be across the entire operating system in iOS 6. The navigation is also cleaner and less busy. Finally you'll notice photos instead of the arial view currently provided by Google in Maps. Apple has been working hard on replacing Google with its own mapping service. In the summer of 2010 Apple acquired 3D mapping company Poly9, followed by purchasing C3 in the fall of 2011. iOS 6 will finally start to use some of that amazing technology natively on the iPhone 5 and it is going to blow users away. The side story to this is of course the gradual move away from using and promoting Google services by Apple which started already with the new version of iPhoto on the Mac.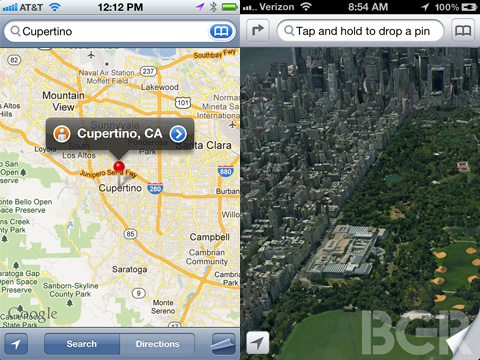 Thunderbolt port may be coming to iPhone 5
A new video demo from YouTube user
DeviceStation
labelled "iPhone 5 Concept Design", suggests the new smaller connection port on the iPhone 5 will be Thunderbolt. This would mean a ton of new abilities over the existing port. The Thunderbolt interface which was developed by Intel and made popular by
Apple
in the new Macbook Pro laptops, will open up a new realm of possibilities on the iPhone 5 and best of all they are backwards compatible. You can get up to 10Gbps throughput on this thing which can be great for HD video, syncing multiple iOS devices to computers and more.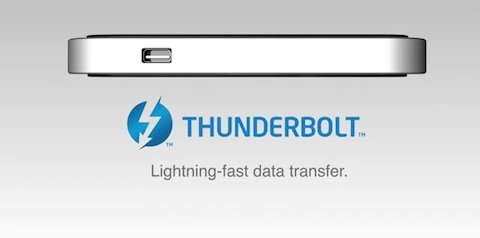 iPhone 5 photos found by 9to5Mac
The 9to5Mac website has
posted
some very high quality photos of the new iPhone 5 which they have gotten a hold of. These photos reveal a new smaller dock connector (Thunderbolt likely) along with the headphone jack both on the bottom of the iPhone 5 and new dotted cut outs for the left and right speakers. Other small changes are: front camera lens is now above the earpiece on the iPhone 5, and the taller display with a different aspect ratio is also verified in these photos. The new iPhone 5 has an aluminum backing instead of the current glass design which may allow for the device to be lighter in weight.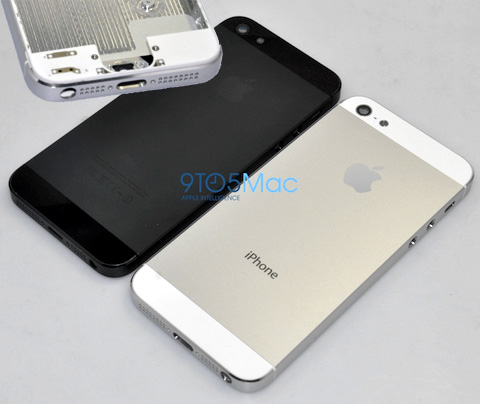 A new aspect ratio! Could this be the next iPhone?
As reported by
9to5Mac today
, Apple has already started testing a couple of new next gen iPhones with a larger display. The new screen size is estimated to be 3.95″ with a 1136×640 resolution which changes the aspect ratio to 16:9 on the iPhone 5. If this is true, it will be wonderful for watching true HD videos and movies on the new iPhone 5 screen. Here is the quote from 9to5Mac.com blog post. You can also check out sample screenshots of what the
16:9 screen
would look like, compared with the existing 3:2 960×640 resolution 3.5″ display of the iPhone 4S.
Right now we know of a few next-generation iPhone candidates in testing. These prototype phones are floating around Apple HQ in thick, locked shells in order to disguise the exterior design to "undisclosed" employees. We know of two next-generation iPhones in testing with a larger display: the iPhone 5,1 and iPhone 5,2. These phones are in the PreEVT stage of development and are codenamed N41AP (5,1) and N42AP (5,2). Because Apple reserves certain models for internal-only usage (such as the N96 phone we previously reported on), we're not sure which of the two devices will make its way into the world later this year.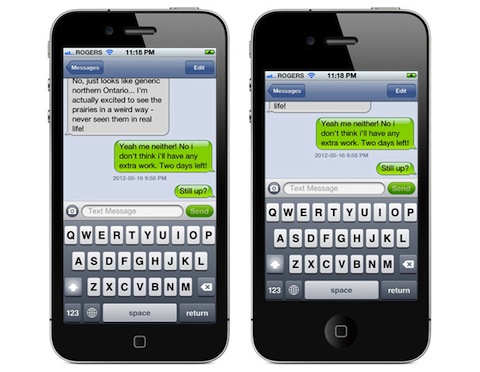 A Tall iPhone 5 Concept Design
Over the weekend, Italian studio from Ciccarese Design posted a concept design that shows us what a 4-inch display iPhone 5 might look like. Their mocks are very close to the existing iPhone 4S. Modification include a thinner case, a modified dock connector, and a sliver wrapped backing. You can view the rest of their Tall Boy designs on the
Ciccarese blog
.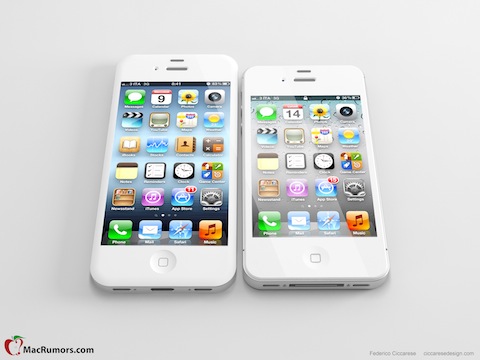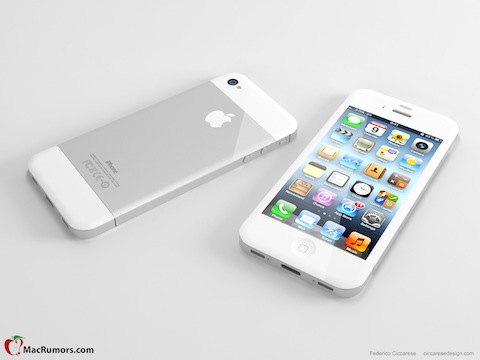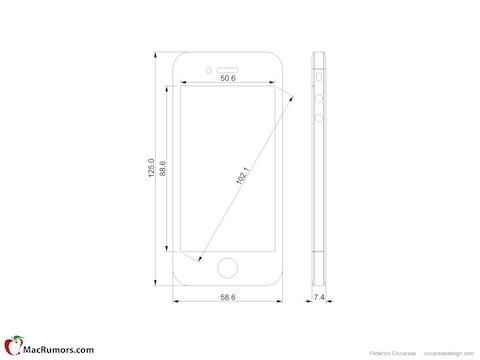 Verizon to kill unlimited data plan for LTE iPhone 5
Verizon just announced that they will not honor unlimited data plans for customers who are moving to new LTE iPhones, which are expected to arrive from Apple later this year. Users who have been grandfathered into unlimited data plans and want to upgrade on Verizon to the iPhone 5 LTE, will have to kill their unlimited internet transfer privileges. Fran Shammo who is the EVP and CFO of Verizon made the statement today: "LTE is our anchor point for data share, so as you come through an upgrade cycle and you upgrade in the future, you will have to go onto the data share plan, moving away from the unlimited world", as reported by
The Verge
. What do you think about this upcoming change? Will you re-consider buying a Verizon iPhone?
Reaffirmed: New iPhone 5 will have a larger display
Today there was a report from Apple's manufacturers which confirms the iPhone 5 will have a larger screen. According to the story from the
WSJ
, Apple has placed an order for larger screen displays from its Asian suppliers (Display Inc, Sharp, and LG). The existing iPhone 4S screen is measured at 3.5″ while the new iPhone will use a screen that is at least 4″ measured diagonally. Production of the new iPhone is set to begin in June with a release sometime in the Fall of 2012. The iPhone has had a 3.5 inch screen since its debut in 2007, unlike the competition such as the newly released Samsung Galaxy S III which sports a large 4.8″ display, a 1/2 inch larger than Samsung's previous phone. Here is a screenshot of what the current iPhone 4S screen compares with the massive 4.8″ screen of the Galaxy S III.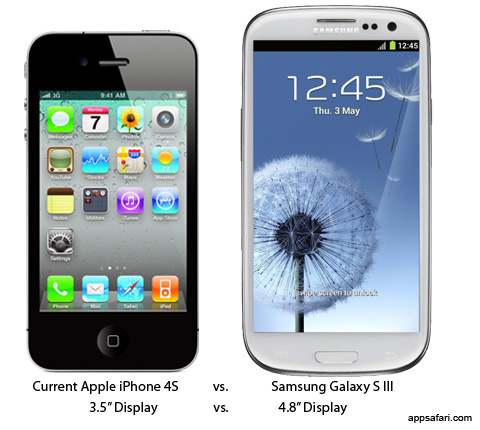 iPhone 5 Liquid Metal Concept Design
A new concept model for the new 6th Generation iPhone 5 has been created by designer Antoine Brieux of NAK Studio. His next-gen iPhone dubbed
iPhone 5 LM
shows off the LiquidMetal alloy sleekness of the frame, along with a touch sensitive home button, a 4.5″ screen, and a quad-core A6 chip. Check out all of his design renderings on the
NAK Studio website
.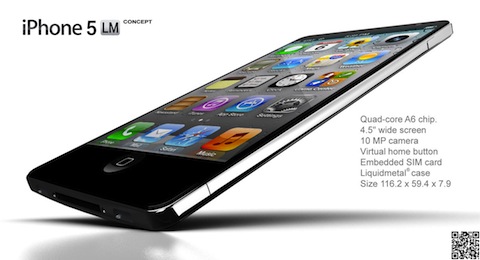 Projected iPhone 5 Release Date Delays
This estimate is based on the assumption that a new 28-nm chip manufactured by Qualcomm is used in the iPhone 5. Based on a report from the Qualcomm company, they are experiencing overwhelming demand for this chip and are running out of supplies. Therefore, analysts who believe the new iPhone relies on this new 28-nm chip, expect the release of the new iPhone 5 to be moved back from the original June/July launch date to sometime in the September/October timeframe. Basically we're talking Q3 instead of Q2 of 2012. Here's the quote form Qualcomm regarding the shortage based on a
report
from AnandTech:
At this stage we cannot secure enough supply to meet the increasing demand we are experiencing," Chief Executive Paul Jacobs told analysts on a conference call, adding that the issue would limit revenue growth this year. Demand went so far ahead of availability that we've decided to start spending more money to get more supply as soon as possible," he told Reuters. "Any time we can't make a customer totally happy I'm going to worry. You don't want to give a customer a reason to go elsewhere.
iPhone Plus concept
Another iPhone 5 concept design from Antonio De Rosa, this time he calls it the
iPhone Plus
which sports a slick liquid-metal thermoformed case and 4.3″ Retina Display with In-Cell technology. The new iPhone also has a slimmer thinner profile which would also require a new dock connector. The phone even includes a Projector to beam photos and videos to surfaces, a 10 Megapixel Rear Camera with 1080p Full HD video at 30 FPS, a Rear motion sensor, and a Fully Capacitive Home Button.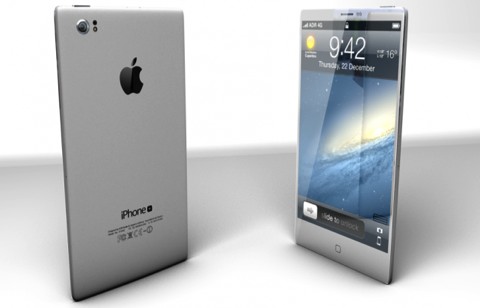 iPhone SJ concept
A new iPhone 5 concept model from Italian designer
Antonio De Rosa
was released recently, which he calls iPhone SJ. His design includes a 4.3″ complete gorilla glass capacitative screen on a polycarbonate lightweight body. Technical features are a quad core CPU, and a rear motion sensor, and a 10 Megapixel rear camera.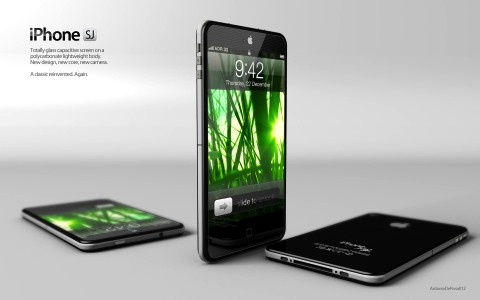 iPhone Concept from Fuse Chicken
Here are some iPhone 5 concepts designed by Fuse Chicken that portray a thinner shell casing on the device and a more rectangular home button. You can checkout all the specs used in these renderings including a 10 Megapixel rear camera on the
FuseChicken website
. The website also shows off the use of the Kickstarter project for an iPhone charger/stand called the
Une Bobine
.