New and Hidden Features in iPhone Software 2.0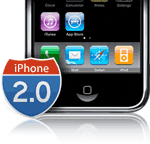 The 2nd major release of the iPhone firmware released with iTunes 7.7 can be installed on both the new iPhone 3G as well as the 1st generation iPhones and provides a slew of new features, some hidden and some obvious. Here are the complete list of features available for your iPhone Software 2.0.
SMS
Follow or bookmark links in text messages
Remembers text you typed in but haven't sent yet
iPod
Video rotation lets you watch videos in both portrait or landscape
Video podcasts removed from the audio section
Calendar
Retains your color settings synced from Outlook or iCal
Colors use transparency when appointments overlap
Wireless push sync with Windows using Exchange ActiveSync with Mail, Calendar, and Contacts on the iPhone
Wireless push sync with Mac using Apple MobileMe to Mail, Calendar and Contacts on the iPhone
Camera
Improved Image Quality
Location Awareness allows for Geo-tagging
Photos
Stores screenshots taken with the iPhone
To take a screenshot: Press both the Home Button and the Sleep/Wake buttons at the same time. You will see a sudden flicker on the screen notifying you that a screenshot was taken. The photo will be in your Camera Roll the next time you open it.
Maps
iPhone 3G users now get very large blue dot on the Map using GPS with your precise location, and the blue dot follows you when you move around.
Calculator
Full Scientific Calculator in Landscape mode
Opening calculator and typing new numbers overwrites any previous number left over
App Store
Probably the biggest of the new apps lets you download and or buy iPhone apps using the wireless connection.
Contacts
A new standalone app added to show list of contacts separated from the Phone app
This allows you to add new contacts while talking on the phone
Search ability added to contacts in both Phone and Contacts app
Push sync with ActiveSync or MobileMe
Phone
Favorites list now supports 50 entries up from 20 prior.
Mail
You can BCC yourself in outgoing emails you send out
Push sync with ActiveSync or MobileMe
Multi-move lets you select multiple emails for moving
Multi-delete lets you select multiple emails for deletion
See which account mail is sent from and change it on the fly
Save attached photos in emails to the Camera Roll by down on it for a few seconds
Apps like YouTube can now compose new emails with attachments added to them
Safari
Safari gets a speed boost and executes JavaScript much faster and fewer crashes
Tapping on embedded YouTube videos in web pages now launches the iPhone YouTube application and plays the video there.
JavaScript alerts rotate with the phone
Save images in Safari by tapping and holding on the image and you will see a "Save Image" button. Great feature if you want to use images you find online as your wallpaper.
Clock
The Timer section of the Clock app can now be set to Sleep iPod when the times stops. Great for imitating the functionality of a sleep button using music on your iPhone.
Settings
Fetch New Data toggles MobileMe and ActiveSync wireless push sync
Turn Location Services on or off to change if iPhone apps are aware of your current location
Restrictions lets parents protect explicit content on the iPod, Safari websites, YouTube videos and spending limits in the App Store and iTunes apps with with a 4 digit pin
Keyboard and International settings support multiple new languages. Toggle the desired keyboards for the languages you want under General > Keyboard > International Keyboards. Then in the keyboard use the small "globe" icon on the left side of the space bar to rotate through configured languages.
In the keyboard press and hold the .com key to see other tld extensions based on your selected languages. For example in the U.S. you will see .net, .edu .org, with German you will see .edu .org .de, and with Spanish you will see .edu .org and .es in a pop up list.
Reset upgraded to let you undo changes made to various settings
Import SIM Contacts
Toggle New Invitation Alerts On and Off for ActiveSync Calendar users
General
Last character typed in a password field is now visible for a couple of seconds before turning into a black dot in order to minimize typos
App Store apps have the ability to create their own panels under settings
Improved dictionary words and better auto complete
Passcode locking offers longer time frames including 1 hour and 4 hours.
In enter passcode screen, you can now make an emergency call with out having to log in first