Shortmail is a new messaging service and iPhone app that combines aspects of Twitter and Email into a brand new socially aware service. You sign up for a new user@shortmail.com address that ties into your existing Twitter account. Messages in shortmail are meant to be short, concise, and bite sized as with tweets. You can compose emails to one person, or to a group. Shortmail limits email messages to 500 characters (about 5 sentences), no attachments. That's a great idea! Now if someone could just invent "tiny mail" and limit messages to 25 characters. Seriously, if you're email is longer than than, it should probably not be in an email.
Finally shortmail meshes in social communication. New messages can be sent privately, or they can be made into "public" messages which like Twitter posts can be read by anyone, or "open" conversations which anyone can join and reply to. The service offers a website as well as an iPhone app for now, with Android and iPad apps hopefully coming soon. You can also setup and use a shortmail IMAP account in your email client of choice including the Mail app on your iPhone and iPad.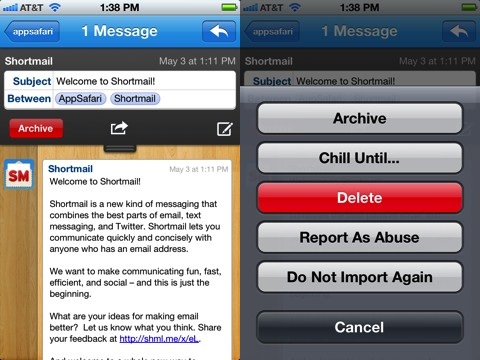 Once you start the Shortmail app on your iPhone, it will ask to access your Twitter accounts and can use any of them to create a new @shortmail account for you. If you've already signed up online, the Twitter account will be labeled as so. If you prefer you can also create a new account that is not tied to any of your existing Twitter profiles.
The app sends you push notifications when you receive new shortmails if you allow it to. You can format your message using either *bold* and _italic_ in shortmails which get formatted for regular email clients and Shortmail.com on the web.
When you send a message you have the option of archiving it, or having the message "chill" which allows you to set a date and time when you want the message to come back. On the web you can also mark messages as public or open but not yet from the iPhone app unfortunately. Messages sent to your Shortmail that are over 500 characters get placed in a Quarantine folder which is not accessible form the Shortmail iPhone app yet.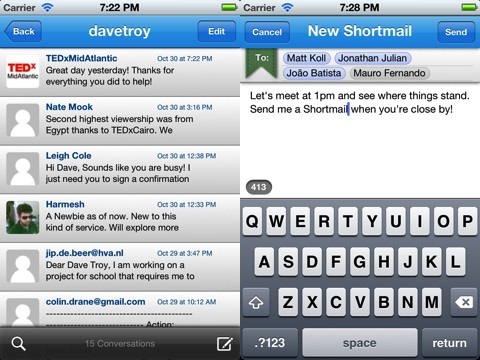 Messages sent to your Shortmail from regular email addresses from anyone are shown all in a single flat inbox on the Shortmail app. On the web there are three different buckets: System, People, and Unacquainted, and sub-buckets are created for conversations per contact. I'm not sure which system is better but having different formats does create confusion. Another inconsistency is the sort order of conversations. In the iPhone app, threads are sorted in reverse chronological order, while on the web they are in normal order.
To view your sent messages you have to search for your username. On the iPhone app you can also narrow your search by Sender, People, Subject, Text and All. There is no native iPad app yet, so you can go to Shortmail.com from your Safari browser.
The latest update to the Shortmail app has added support for offline message composing, conversation deletion, "chill" support, and support for importing messages from your existing IMAP email accounts in a featured called "Shortmail Connect". You can also now swipe right over individual messages and see if the message has been read by the recipient(s). Finally there is now a way to mark messages as spam and report abuse.
I found that the badge count on the Shortmail app and the unread message counter on the account is a bit buggy, since after I have read a message, the app doesn't seem to instantly reflect that in the badge and counter numbers.
To setup your Shortmail account via IMAP you can follow these simple instructions. Full steps for How to Use Shortmail with Mail on iPhone and iPad can be found in a shortmail blog post.
Incoming Mail Server: imap.shortmail.com
Outgoing Mail Server: smtp.shortmail.com
Outgoing Server Port: 587
Incoming Server Port: 993
SSL: ON
Overall, Shortmail is a unique product that blends web forums, email, Twitter, chat, and SMS into a next generation text communications service that runs on both the web & the iPhone. Its open communication system is great for brands and businesses, and can be thought of as a hybrid between emails, tweets and support forums. Let's hope the developers at 410 Labs keep adding new features and fine tuning existing ones going forward.