Zoom
User Reviews

Digital Manga Project from the Digital Manga Association gives you Manga on your iPhone/iPod touch. The site is in Japanese, but many of the mangas are in English. To read any of the paid episodes you will buy them in the app for $8.99 each using in-app purchases. If you are considering buying the ebooks in Digital Manga, I would recommend that you are using an iPad for this app, since you get a much better visual comic book style presentation and an overall better experience.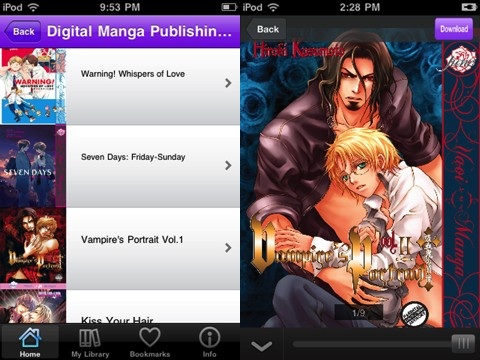 App Description:
Welcome to the Digital Manga Publishing Store app, presented by Digital Manga, Inc.! Showcasing a variety of ebook manga/comic titles from DMP's extensive library. DMI is moving forward with their new app for buying and viewing the rest of their library!! So if you love DMP books download this app now! Hosting genres from mainstream, shoujo, shonen, yaoi, seinen, and American comics….take it all with you on your iPad. About Digital Manga Publishing Located in Gardena, CA, Digital Manga Publishing is one of the industry's most unconventional and innovative companies, specializing in building corporate and cultural bridges from Japan to the Western Hemisphere – specifically through the licensing, importation and preparation of anime (Japanese animation), manga (Japanese comic books) and related merchandise for the North American mainstream and subculture markets. In this capacity, DMI serves as a catalyst for the expansion of Japanese pop culture institutions into global arenas. The company's imprint line includes DMP: its mainstream imprint, DMP PLATINUM: its classic manga imprint, JUNE´: its boys love imprint, 801 MEDIA: its adult boys love imprint, DokiDoki: its exclusive co-publishing imprint with Shinshokan Publishing, Project-H: its Seinen Hentai manga imprint powered by 801 Media, DMG: its own digital distribution initiative, and eManga.com: its online storefront for digital content.
This 3rd Party App is available at the Apple iTunes AppStore. Browse the full list of all AppStore apps filed under the AppStore category.
Price: Free
Version: 1.1
Size: 5.41 MB