What kind of beer goes perfect with those nuts? Find out with the BeerCloud app (previously a webapp called Beer Sommelier) on your iPhone or iPod touch. According to Sam Calagione, co-author of "He Said Beer, She Said Wine" and owner of Dogfish Head Craft Brewery, "BeerCloud is the killer app for on-the-go beer and food pairing. If you have this encyclopedic database on hand you can cheat on your go-to beer style with confidence." Discover, select, and locate great beer with BeerCloud.
While wine and food pairing has been common practice for years, many people are discovering that beer, with its extraordinary variety of unique flavor and aroma characteristics, as well as the benefit of carbonation, can rival and often exceed wine in its ability to harmonize with food. With the growing stylistic diversity in today's beer scene, people are discovering ways that unique beer styles enhance their culinary experience, however few resources exist to help guide the beer and food pairing decision. That's where BeerCloud can help.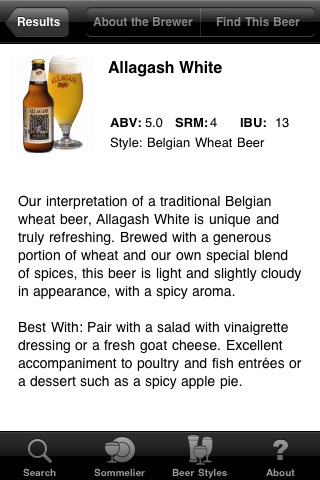 Powered by GreatBrewers.com, BeerCloud is a revolutionary mobile app that helps you pair beer with food, track down your favorite beers in your neighborhood, discover the world of beer styles, and pull up a full description of nearly any beer in seconds.
Whether you're a beer consumer who could use some guidance in making a well-educated purchase, a food lover looking to discover new ways to enhance a meal with a complementary beer pairing, a beer student hoping to learn more about styles, or a traveling beer enthusiast who wants to instantly map the closest stores, bars, and restaurants carrying one of your favorite beers, BeerCloud is an essential iPhone app.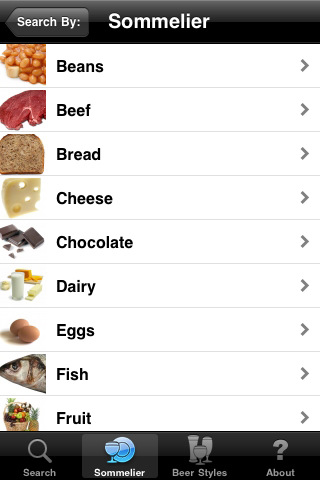 – Search the perpetually growing database of 2,900+ beers from GreatBrewers.com
– Descriptions include product image, style, taste profile, food pairing recommendation, strength (ABV), color (SRM), and bitterness (IBU)
– View more than 400 brewery pages for a description and a list of beers they produce
– Track down your favorite beers in your neighborhood with your iPhone's built-in GPS**
– Search includes beer offerings at more than 50,000 bars, restaurants, and stores
– Distance appears next to each retailer – click a retailer for details, a map, and directions
– Beer Finder data perpetually updated with shipments from local wholesalers
** Location services limited to states covered by the Beer Finder, with more territories coming in near future. To see a current list of territories covered by Beer Finder, visit http://greatbrewers.com/beer-finder.
– Recommends complementary beer style accompaniments for more than 250 foods
– Select main ingredient, then select dish and see recommended style pairings
– Clicking a specific style reveals commercial examples of that style
– Browse and read thorough descriptions of more than 140 beer styles and sub-styles
– Descriptions include history, food complements, vital statistics, and glassware and serving temperature guidance
– Style descriptions are created by GreatBrewers.com while sub-style guidelines are provided by the Brewers Association
– Click any sub-style to see commercial examples
This 3rd Party App is available at the Apple iTunes AppStore. Browse the full list of all AppStore apps filed under the AppStore category.