The Onion is a satirical news publication based out of New York. Their app for iPhone, iPad, and iTouch brings all their hilarious stories to your iOS device. Of course all Onion articles are completely fake, but every once in awhile The Onion makes real news headlines when a journalist embarrassingly sites their articles as a truthful source. They have fooled various international publications, as well as our own Fox News network, who ran an Onion story about Barack Obama writing a 75,000 word e-mail complaining about the state of America. Most recently, a local Iranian journalist cited an Onion piece claiming Iranian President Mahmoud Ahmadinejad to be more popular than Obama in the United States.
The Onion's layout is simple and easy to navigate. Their side menu is tucked away and organized into five categories: Recent, News, Video, Images, and Sports. Small banner advertisements are sprinkled throughout the app, but they aren't too distracting. The Onion's writes satire at the highest level, which sometimes means exploring every last joke and pun opportunity available to a topic. It can get a bit exhausting, so once you've had enough of a story you're reading you can quickly swipe to the next one on the list and be back to laughs in no time. The standard features of a favorites list and sharing via Facebook, Twitter, and various other sites are also available.
The Onion also has a random story generator called "Shake for News" for when you're feeling bored and indecisive. You can choose to activate the feature and with a shake of your device you are given a new article from their arsenal of faux journalism. Additionally, The Onion boasts giving you "Access to the full Onion archives dating back to 1783". I'd like to remind you, however, that the Onion has probably never made an honest statement in its entire history, which in case you were wondering dates back to 1988.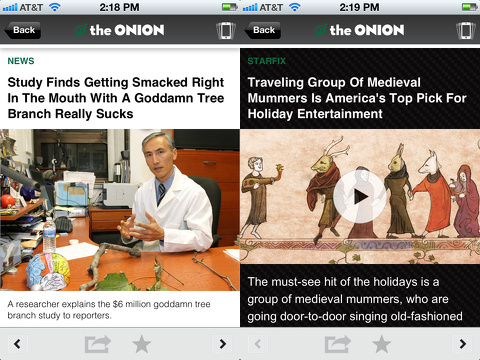 The Onion consistently writes top quality satire, so they are a safe bet for a good free laugh. There are some problems with the app crashing, and disappointingly certain highly enjoyable aspects of their site, such as their side-splitting horiscopes section, is not available on the app. Further polishing to the app is in order, but it doesn't change the fact that The Onion is consistently responsible for some of the best parodies currently written.
If you don't want to download the app, you can also read all of the Onion's funny news and satirical reporting on your iPhone with the Onion mobile edition webapp by going to mobile.theonion.com in Safari.