Pulling off a quality platform style game on an iPhone or iPod touch can be a tricky proposition. One must balance a simple interface with enough complexity to keep gamers interested. 5th Cell Media does an admirable job with Run Roo Run which is a deceptively simple iPhone app with a familiar premise, solid graphics and gameplay just addictive enough to keep you tapping.
You are a mother kangaroo separated from her baby. It's your job to make your way from Perth to Sydney by way of 420 screens of varying complexity split up into 15 themed chapters. The controls could not be simpler. A tap on the screen sets your kangaroo running across the screen. Additional taps cause the your kangaroo to jump. That's it. This is not about testing your dexterity or mastery of a whole bunch of gesture based controls.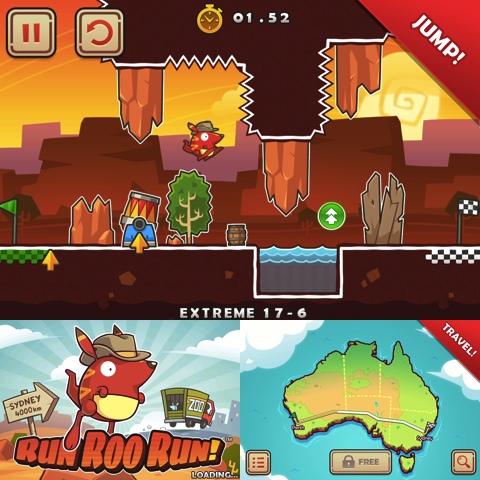 Instead, you have a game that is all about timing, quick reflexes and just a little bit of luck. The chapters progressively introduce a wide variety of familiar devices, both enhancements and obstacles to help add variety to the proceedings. Different tools boost your jumps. Fans lift you in the air or push you across the screen. Spikes jab out with deadly consequences. Temporary platforms crumble beneath your feet while other platforms back and forth across the screen. You get the idea.
In all, the application is a pleasant time waster. The graphics are clean and cartoonish. The gameplay, as mentioned, is simple and intuitive. There is sufficient variety and difficulty to keep things interesting. Run Roo Run is not without its faults, however. No review would be complete without mentioning a few relatively minor annoyances.
A tap of the screen starts your kangaroo across the screen with no means of controlling her pace. When dealing with moving elements such as shooting spikes or mobile platforms, this can prove exceptionally frustrating. Undoubtedly, this is by design, but it is a design element that could frustrate some players. Players are provided with a limited number of slow motion help options, but these slow down both the screen and the kangaroo, leaving the timing issues more or less unchanged.
Another feature they may bore an avid gamer is the may in which the difficulty progresses. Each chapter contains 15 screens progressing from a simple introduction of its unique feature to more complex puzzles involving a variety of different gadgets used in conjunction with one another. Each chapter starts out with 3 or 4 screens so simple they feel like the developers were padding.
Run Roo Run is a fun, engaging, and intuitive platform puzzler and is well worth its 99 cents price tag.