I've always been told that "perspective is everything," and the Blueprint 3D iPhone app really proves this saying. It's amazing how, after downloading this app on my iPhone 4S, this truly unique gaming experience has changed the way that I think about and look at things. As this game clearly shows, it's always important to find another perspective. Blueprint 3D really brings something new to the App Store. I don't think there is or has ever been any concept similar to this one that has been successful in the store as of the release of the Blueprint 3D application.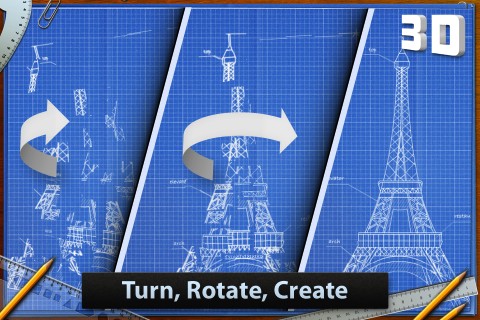 In the beginning, it seemed like just spinning random lines around, but the image soon became apparent after focusing on one specific part of the image that I saw was fitting together (I did the Eiffel Tower first). The second level (Statue of Liberty) was a little more difficult but once I remembered to rotate up and down rather than simply focusing on side to side movement, the image came together and I felt like I was getting the hang of it. This said, I found the game easy to get started as well as easy to get addicted to.
All of the levels are fun and different in the way that it keeps you wanting to play more; I never found it boring for a minute. All of the level packs are pretty similar in the approach that the player should take in trying to solve the puzzle, but the point of Blueprint 3D never came across to me as one that should consistently surprise you with new twists and turns. It is a simple yet challenging puzzle solving game that teaches the player to use his or her imagination and try to see a bigger picture rather than focusing on little dots and lines here or there.
I do wish that there could be more challenging levels since, while there were definitely difficult ones, I found myself wanting a greater challenge. The hardest level, that I encountered was the one, ironically, of an iPad. I was just not rotating it in the right directions and (again) avoiding the vertical aspect of the perspectives. Still, I got it after a few attempts, but really enjoyed the challenge. I think that if FDG Entertainment could somehow work a multiplayer aspect it would increase the skill level.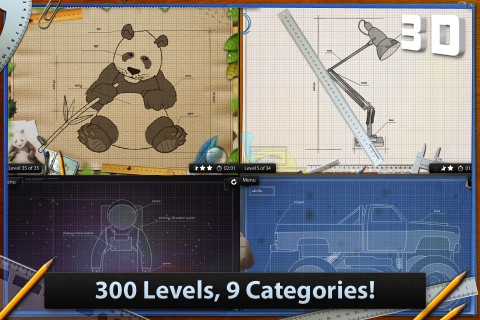 The controls were easy to understand and were reminiscent of the futuristic ideas about being able to manipulate floating digital representations by rotating it in every degree. The audio was surprisingly good and contributed a fun atmosphere. The graphics were extremely sharp, as is expected of FDG Entertainment. I would definitely recommend Blueprint 3D to all other gamers, whether they are playing on the iPad, iPhone, or iPod Touch, since it is not only family friendly but also simply a truly fun experience to have.
I hope that this review encourages FDG Entertainment to continue to produce such amazing and unique ideas.