The Treasures of Montezuma 3 is a stunning match three game for the iPhone and iPod touch by Alawar Entertainment, Inc. Using magic stars to buy powers and totems will help you get achievements and a higher score. This app requires iOS 3.1 or later and is compatible with iPhone (3GS and up), iPod Touch (3rd gen. and up), or an iPad. A seperate HD version sells for $4.99 in the App Store. It has great gameplay with some drawbacks here and there but I really like how this game turned out. The Treasures of Montezuma 3 will keep you coming back for more of the explosive and amazing match three action.
You have minute to match three or more of the same colored token to get points so you can get a high score which gives you a coin and earning all of these will allow you to beat the level. Even if you get a very high score, the game will only give you one coin. When you beat a level, you will get a magic star which allows you to use and upgrade a bonus or totem. Magic stars can also be earned by beating a level with very high score and by playing a bonus game. I don't know if bonus games are found randomly or not. Bonus games consist of three rounds and grants you two magic stars if you can beat it.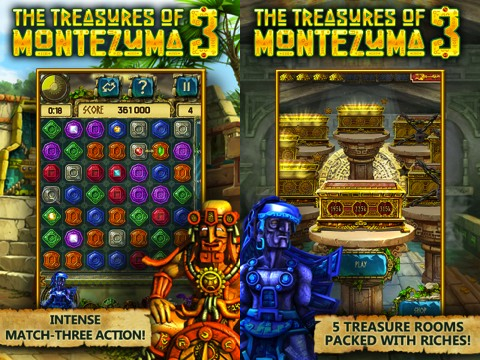 Be careful of the skip button on the top left corner of the screen since you might not get another chance to play that bonus round if you hit it. By clearing all the given tokens in a round you move on to the next until you beat them all. To move a token, you slide it up, down, left, or right. Tap the icon with the switch arrows allows you to shuffle the tokens around but you can only use it a few times. The question mark button tells you the next match at the cost of a thousand points. Matching four or five tokens are the only ways to get certain bonuses. Powers or bonuses and totems will help you in getting an extremely high score. When you first play the game, it will be slow since all you can do is match tokens and trying to beat the level.
Sooner or later, powers and totems will help you beat levels much more quickly. Powers and totems are unlocked at a slow pace but you get to pick which ones are better suited for you. Some powers and totems I like are more time, a bomb, the fire totem, and the lightning totem. Totems are activated when you made the same colored match twice. Gems are sometimes attached to a token and matching it will give more points and help you increase a multiplier. Frenzy mode allows you to double your score and it activates when you fill the sand bar at the bottom of the screen. OpenFeint and Game Center have leaderboards and achievements.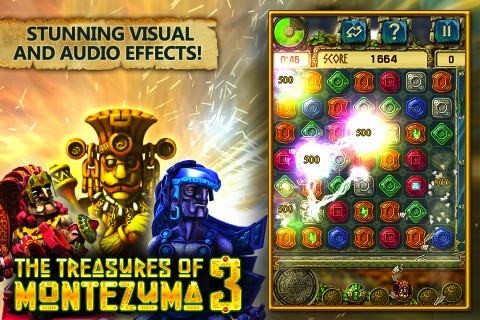 The visuals for The Treasures of Montezuma 3 are spectacular. They are sharp, crisp, and colorful. It can lag when you aim for a high score when your bonuses and totems fill the screen with electricity and explosions. The tokens, powers, and tokens fit the game very well. When you upgrade a totem, you can see it getting more gold and jewels added to it. This app has one of the best graphics I've seen for a puzzle game.
The audio for The Treasures of Montezuma 3 is well done. The music and sound effects fit the game very well. When you make a match, you see electricity surrounding the tokens and you can hear the power the tokens are generating. If you don't like the audio you can turn the music and sound effects off by sliding them to the left in options. There is no iPod music support.
The Treasures of Montezuma 3 costs $1.99 on iTunes. There is a free version for people to try if the price is a bit steep. I tried the free version and I wanted more so I bought it and thought it was a worthwhile game. You can replay a stage to get a magic star you didn't get yet or to see how high of a score you can get. I recommend playing the game on casual then moving on to expert difficulty. The flaws for this game such as unable to continue the game after beating it and having to start from scratch, lag, and not getting all the coins when you get a very high score are bad but not bad enough to stop me from enjoying it. I suggest giving the free version a try before you buy it.