Lost in Letters by Smugbit Studios is a simple find-a-symbol game. This app requires iOS 5.0 or better and can be played on iPhone 3GS or later, iPod Touch 3rd generation or later, and any of the iPads. There are four game modes with achievements and leaderboards but they require Game Center login. The difficulty levels are easy, normal, and hard. I think anyone can play this game but only a handful will stick with it.
You find the only symbol that is different from the rest and tap on it; that's the game. The higher the difficulty, the smaller the letters/numbers and there will be more of them. The symbol appears in random places; sometimes in the exact same spot as the last one. Every now and then the last tapped number or letter will be the in the next pattern (example: tapped on Z, Zs will cover the screen then I have to find 2 among the Zs. The four game modes are Time Trial, Free Play, Survival, and Survival Challenge.
Time Trial requires you to find a certain number of correct symbols and how long it takes for you to finish. In Free Play, you play till your heart is content, so you "back" (exit) out of the game when you have enough of it. Survival mode has sixty seconds on the clock where you find as many numbers and letters as possible with each one increasing your remaining time by three seconds. Survival challenge is the same but with each miss will decrease your time by one second. If you don't tap on the correct symbol it will be a miss and the game will keep track of this and things like how many letters found, amount of time spent playing this game, records for easy, normal, and hard on every mode. There is no pause or save so you have to start fresh. You can use Twitter or Facebook on a game over/new record.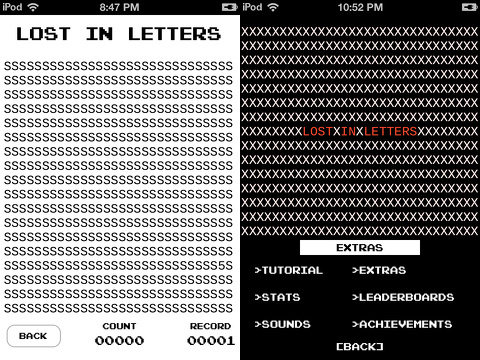 The graphics are very simple yet polished with no unintended pixilation. A black or white background is covered with letters or numbers of the opposite color. Most of the game modes feature a countdown from three to one when starting a new game session. After playing for a while, the symbols are reused but it's understandable since certain symbols will blend with each other. Examples are 1 and I, Z and 2, 5 and S, etc. Smugbit says this app takes full advantage of the retina displays on the latest iPad and iPhone 4 and 4s, I played this on the iPod Touch 4g and it looks fine. I don't know how much better this game will look on those devices. Through this app, I learned about the existence of a dotted zero; it's a zero with a dot in the middle. According to Wikipedia, it is a variation of a slashed zero which represents and emphasizes the number zero especially in the coding of video games. Some odd combinations to me are 0 and the dotted zero (I think a better choice is O), M and W, and K and X but oh well. Ads appear at the top of the screen while playing. My eyes start to strain on normal difficulty and it gets more irritating on hard. I started to slow down finding the symbols as the game kept on going. Other than that the visuals are simple and well done.
The music is different and/or unique depending on your tastes while the sound effects are standard beeps and blips. I heard two tracks and another track when you're on the game over screen. The audio reminds me of playing games on the Game Boy or other systems. The music speeds up when running out of time on Survival. I would have liked this app to include iPod music support.
Lost in Letters is free on iTunes. Letter Pack 1 and Remove Ads are $0.99 each. This app plays well but it gets boring after a couple of games. I can't blame them for reused symbols but I learned about the dotted zero from them. Graphics are bland but polished; there is no other color then black and white except for the red on the title screen and from the ads. On hard difficulty, my eyes get very irritated; Smugbit has a warning about this. The music reminds me of playing games on older systems. The tutorial is funny to me since you can tap the middle of the device and pass it. I think this app is worth a shot but it didn't have enough of a draw for me to keep playing.