HealthStream HCAHPS Monitor is a free iPhone, iPad and iPod Touch app for anyone who either works with a hospital, or has the potential to be a patient of a hospital. (That should cover all of you savvy readers, unless you happen to be a bionic robot.) Don't be turned off by the unwieldy app acronym – once you get past that you'll find a wealth of hospital information related to patient satisfaction.
So what the heck do the letters stand for and why should you care? They stand for Hospital Consumer Assessment of Healthcare Providers & Systems. In lay terms, it's a report of publicly available data about how awesome your hospital is and how it compares to other hospitals in your town.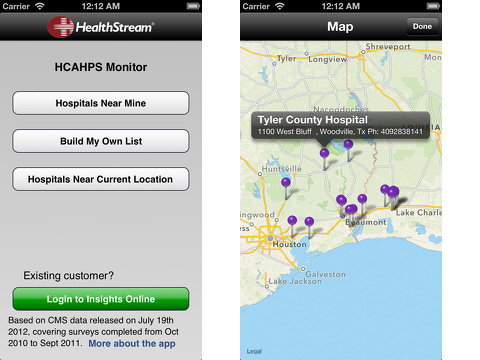 The HealthStream HCAHPS Monitor iPhone app gives you instant access to these stats. It is extremely user-friendly – on the first touch it generated a list of all the hospitals in my area; on the second, it generated a satisfaction report for all the hospitals in my area for comparison. Satisfaction categories include staff communication and responsiveness, effectiveness of pain management, health instructional clarity, cleanliness and quietness, and the overall rating the patient gave the hospital. (The only thing it won't tell you is if the hospital food is any good. If you're wondering about that, wherever you are, I can tell you the answer is "No.") The data is presented in vibrant bar graphs so you can see the results easily and clearly.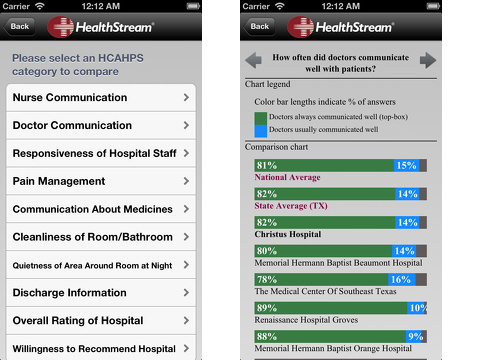 Why you'll use it: You want to know your loved ones are in good medical hands. Hospitals with higher patient satisfaction scores produce healthier populations, and that usually means that Mom gets more effective care. With the HealthStream HCAHPS Monitor app you can see how the hospitals in your area (or any place in the US, for that matter) stack up against each other.
HCAHPS Monitor updates patient data quarterly, so make sure you check your hospital scores from time to time, as they can change. Even if you only use this app once, however, it's worth the short time it takes to download. Although satisfaction data is available online, it is not easy to find. After ten minutes of Googling "patient satisfaction scores," I still couldn't find the scores for my local hospital, let alone find them in a form that allowed me to compare them with other hospitals' scores. This app developed by Ringful LLC had the stats in front of me with two simple clicks and in less than two minutes.