NPR Music is National Public Radio's official iOS app for iPad, iPhone, and iTouch. For the sake of full disclosure I'll have to admit: I'm a huge fan of NPR. In an age where much of the major news outlets of the US can only be described through a chain of expletives NPR stands out as a beacon of quality journalism. NPR music has often introduced me to great new tunes through their various programs, so I couldn't wait to see what their app could offer.
On firing up the app for the first time I was met with an easy to navigate home screen. You can browse through the latest music news, programs, videos, and albums, or enjoy the featured 'Song of the Day'. I was pleased to find that I could listened to the featured song of the day while reading the corresponding article at the same time. In addition to several different music programs, there is a short list of blogs to explore ranging from classical and jazz to contemporary music news and NPR's 'All Songs Considered'. Editors picks for top stories and music news offer up yet another source of information at your disposal.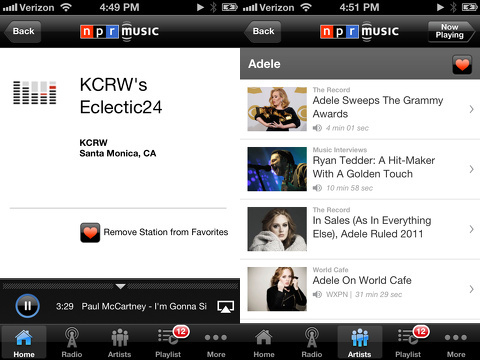 The radio section of NPR Music contains live streams of over 100 public radio stations, with options to browse by genre as well as a favorites list. Although there are quite a few stations to choose from, you are limited almost entirely to Rock, Jazz, and Classical stations, with the exception of a single, lonely Hip-Hop/R&B station. There is also a searchable directory of over 5,000 artists to search through, offering yet another customizable favorites list.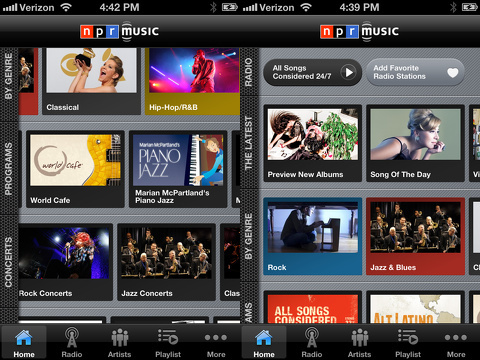 There have been a number of nifty new additions to the latest version of the app. NPR music now offers live coverage of popular concerts and festivals such as South by Southwest. Also, if you have Apple TV you can stream straight from the app to your television.
NPR music is a good app for discovering and listening to music, although it is a bit limited by a serious bias towards certain genres.The NPR website allows you to stream individual tracks from new albums, but for some reason the app does not offer this useful feature. It is available for free in the iTunes store.