The BBC is huge. Not only the biggest news source in the United Kingdom, by number of employees it is the largest broadcaster in the entire world. They have 44 foreign news bureaus, employ thousands of journalists, generate 120 hours of radio and television per day, and have correspondents in nearly every country. BBC Worldwide LLC. brings their arsenal of news to iOS users with the BBC News app for iPhone, iPad, and iTouch.
Although not the most visually appealing, the home screen does its job well. The BBC offers extensive news coverage, so naturally there are quite a few categories to choose from, and the app arranges them in an organized and manageable fashion. Scrolling vertically shows rows of categories, and scrolling horizontally goes through the top news stories in each category. Each story has a medium sized thumbnail accompanied by a short headline. At the top of the screen there is a banner that scrolls breaking news as it is reported. Selecting the banner will open a full article with more information.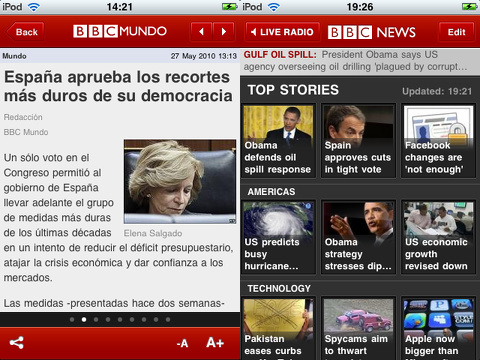 Scrolling past the main menu offers a long list of other news options. These selections include regional news from around the world, entertainment, sports, and more. Lastly, there is a list of news in a number of languages including Spanish, Portuguese, Chinese, Russian, Arabic, Persian, and Urdu. The home screen can conveniently be edited to add any of these extra news categories, or remove any of the default ones. This level of personalization helps cater news stories to user's interests.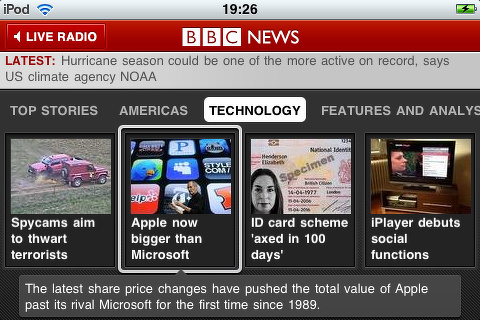 The BBC News app offers a Live Radio broadcast stream of their news programming. BBC also allows users to join in the journalistic process. In today's internet age anyone with a cameraphone can provide breaking news stories and images. In keeping up with the times, the BBC app allows users to upload images and send stories through either email or text messages of breaking news.
BBC News offers a wide range of trusted news from all over the globe. Their articles feature excellent journalism in several different languages. I've asked a few bilingual friends and family what they think of their articles in various languages (Chinese, Persian, Spanish) and they've all given positive feedback. The app is a bit aesthetically drab, and doesn't offer too many bells and whistles as far as features are concerned. Nevertheless, if you're looking for quality news you can't go wrong with the BBC.