Now you can watch and follow your favorite MLB team on your iPad and iPhone optimized for hi-res displays, with the free MLB At Bat app for mobile. The official Major League Baseball app gives you scores, videos (if you have a MLB.tv subscription or pay for the in-app purchase) and lets you listen in to live radio broadcasts. You can also check-in at the park using this app on your iPhone.
When the audio works, this is a great iPhone app. Unfortunately, this is rarely the case, so you have been forewarned before you spend the hefty price on this app. Once the annoying audio problem is fixed, I would recommend getting this app just for that feature alone.
At Bat 12 Subscription Fees and Options
– $2.99 Monthly recurring fee
– $14.99 for the entire 2012 season
– MLB.TV Premium subscribers receive At Bat 12 for free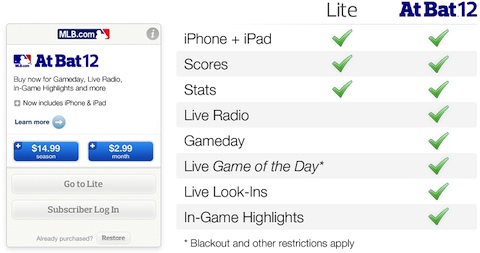 Here are the features of the mobile MLB iPhone app:
– Works on both the iPad and iPhone as a universal app
– Standings, schedules, rosters and stats
– MLB News updates and push notifications
– Customizable to your favorite team
– Live Look-Ins (No blackout restrictions)
– Watch Archived games from 2011 season (MLB.TV subscribers)
– Check-ins using At The Ballpark
– Interactive venue maps
– Gameday pitch-by-pitch tracker
– In-progress video highlights
– My Profile
– Twitter and Facebook integration
– Home and away radio broadcasts
– Condensed Games and video library archive, searchable by player, team or keyword
This 3rd Party App is available at the Apple iTunes AppStore. Browse the full list of
all AppStore apps
filed under the AppStore category.