Radio Alarm from EnsightMedia is an iPhone and iPod touch app that gives you streaming internet radio, Alarm Clock, Nature Sounds and Sleep Timer – all in one mutlitasking app that addresses all the usual nuances of alarm clock apps. Radio Alarm's app icon, graphics and layout are all reminiscent of an antique analog radio but the functionality is nothing short of contemporary. Break out of the painful alarm clocks of the past and check into this snug comfy app that feels right at home on your iPhone.
On the main screen you have an a digital date calendar with flip style graphics, an analog clock, two dial sliders for volume and brightness control, and 4 function buttons: Alarm, Radio, Sleep, Channels, and Settings.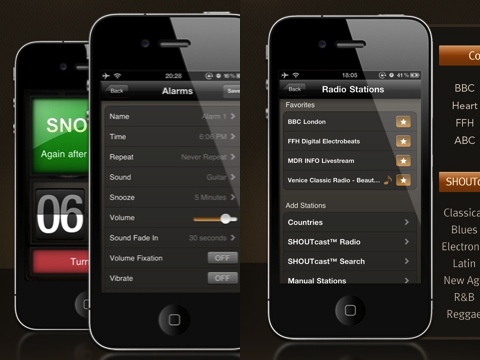 Radio
Radio Alarm is more than just an alarm Clock app. For starters you get a full featured internet radio player using SHOUTCAST with close to 40,000 stations neatly tucked into multiple layered categories. Just tap the "Radio" button and Radio Alarm runs a scan for the last played station on the foreground as it preloads the stream using your 3G/WiFi connection. While this buffering is happening, instead of leaving you in silence, Radio Alarm plays a random dial scanning sound as if you were turning the knob yourself. Very clever and natural!
Since there are a ton a stations to discover, you can star the ones you like which show up on the Radio Stations main screen. Going into the 25 main SHOUTCAST radio genres, you'll find everything from Alternative, Jazz, Metal, Rap, Rock, Reggae and my personal favorite Talk. Talk radio sub-genres include things like Educational, Comedy, News, Political, and Sports. In the sports category alone there are hundreds of live stations you can listen to from around the US and World. The stations are listed by name only which is my one of few complaints on this app. Given the enormous amount of choices it would be nice to be able to sort stations by popularity/listener count, and or bitrate. The second missing feature is keyword search which would be a nice addition for users who want to find their favorite station by name.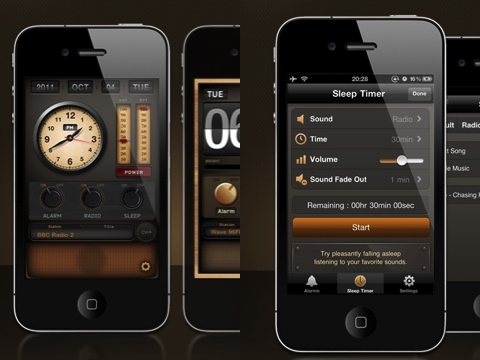 Sleep Timer and Alarms can be setup and customized in the Settings section. Here you can also edit the application's general settings like prevent Auto-lock, Sound Effects, WiFi playback only, and Feedback.
Alarm
Add alarms lets you customize the time, sound, repeat, snooze, volume, fade-in, vibrate and shake. Sounds you can choose besides the default ones are Radio, MP3 and you can even record your own audio to wake up to. Choose specific days of the week and length of snoozing. The Sound Fade In feature is perfect for waking you up slowly. Radio Alarm actually increases your iPhone volume little by little, starting from muted, as it plays whatever sound you chose! The shake feature is also pretty awesome. Instead of tapping a button, you shake your iPhone to snooze it in the morning. Just make sure you don't throw it! Active alarms can be turned on/off easily. Since the app runs in the background using iOS 4, the alarm turns on even if you close the app for iPhone 4 users. I'm not sure how well this scenario is handled for 3GS users.
I know you're asking, so what if my phone or internet connection goes out? Well I tested that out by putting the iPhone in airplane mode. Guess what? The alarm will still go off and it will play whatever sound you picked in the default tab. The devs were smart enough to think of this scenario. Default sounds included are:
Samba's Rhythm
Trumpet
March Drum
Old Clock
Scream
Band
Rooster
Drum
Sleep
You can set a sleep timer to listen to whatever you want and have it even fade out at the end. You can fall asleep to your iPod music, nature sounds, or internet radio.
When the app has problems finding a network connection or contacting an internet radio station for any reason it gives up after a few seconds. You get the following popup message "Can't connect to the Server. Problem connecting to the SHOUTCAST server. Please try again later."
Nature sounds included are:
Rain on Window
Lonely Sound of Wind
Pool Splashing Sound
Campfire
Valley in the Forest
Garden in Rain
Garden in the Morning
Waves at Beach
Singing of Seagulls
Sounds of Valley
The latest version of Radio Alarm Clock has added the following features:
– Downloaded alarm sounds: The first time you run the app, it will download some alarm sounds, which could take a long time if you're on 3G.
– There is now a new wood theme you can purchase for $0.99
– Stations have been added for various countries around the world. You can browse them by name although it is very difficult to find the station you want, since there is no option to find local stations in your city automatically.
– Sleep timer is now available useful for falling sleep to music, sound effects or radio stations.
Overall, Radio Alarm is a powerful iPhone alarm and internet radio player combo that looks good and is stable enough to be trustworthy as an alarm clock app. The price is currently at $2 which is a pretty good deal.
Here is a video demo of the Radio Alarm Clock – MP3/Radio/Nature Sound Alarm + Sleep Timer app on the iPhone