If you need a simple, functional birthday and anniversary calendar on your iPhone, then you'll want to download the Yearly app. With great, intuitive functionality, you can do a bit more than just post a birthday greeting on your friend's Facebook timeline.
The Yearly iPhone app functions by adding birthday and anniversary fields to your iPhone contacts. If you don't know how to add fields, you are directed to a succinct, clear tutorial to easily accomplish this task. For someone who plays with her iPhone a lot, I never noticed the option to add a field in my contacts. You simply touch the edit button on the contact, then you scroll through the list. When you find birthday and additional date to use for anniversary, you add the specific fields and complete the dates. When you press done and return to Yearly, the birthdays and anniversaries appear. You can tell the difference between the two by the graphics. The anniversaries have a yellow band on the photo.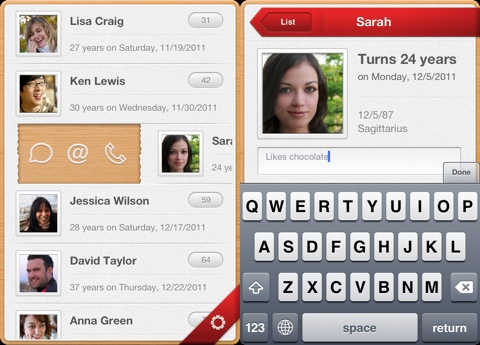 The organization of data and graphic quality is presented beautifully and efficiently. Each entry has your contact's photo, if you have one. There is a countdown until the birthday or anniversary. And, a simple statement shares how old the person or the marriage is on the date. It's just the information you need–nothing more, nothing less.
The settings button leads you to the menu to define preferred parameters to customize the Yearly iPhone app. You have the opportunity to specify the time when you'll receive the notification of birthdays and anniversaries. This is a great feature–especially if a notification arrives before you're ready to get out of bed. If you would like to receive notifications a day or two early, you can set that parameter with a couple of touches on your iPhone screen. The gestures icon on the settings menu reminds you how to send birthday greetings and messages from your Yearly iPhone app.
To send birthday greetings from the Yearly iPhone app, you move your finger to the right across your friend's birthday entry. If you touch the conversation icon, you are connected to your iPhone's message center. You can type a birthday iMessage or text. The @ icon connects you to your friend's email address from your default e-mail interface. Finally, with the phone icon, you can give your friend a shout.
The Yearly iPhone app is a well-executed application that solves a mundane, but really important problem we all encounter. For just $0.99, the Yearly iPhone app is a great tool and resource to remind you of important birthdays and anniversaries for your family, friends, and co-workers.