Filtatron is a synthesizer app by Moog Music Inc. for iPhone, iPad, and iTouch. The original Moog synthesizer was one of the first commercial analog synthesizers and became a legendary name in electronic sound. It was created in the 50's but didn't reach widespread commercial success until the late 60's. Thanks to what Moog helped start genres of electronic music have continued to grow and evolve from the experimental and avante-garde to disco, house, and the modern day dubstep that is all the rage with the young whipersnappers these days.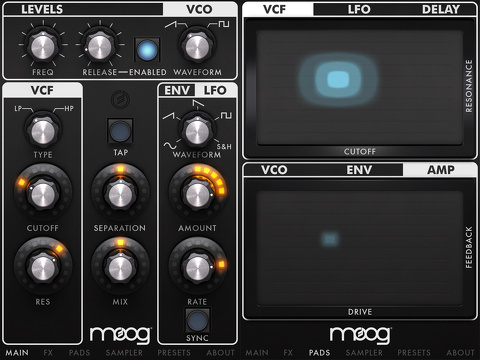 Analogue synthesizers, like most analogue gear, are being used less and less frequently in favor of their digital counterparts. Digital is much cheaper, and the difference in sound continues to grow closer to completely indistinguishable. Technology has gotten powerful enough, in fact, that you can now have a fully functioning digital synthesizer in your iphone, which is where the Filtatron comes in. It supports a line/microphone input and has its own sampler, so you can import any audio from your device into the synthesizer. Filtatron's oscillator offers sawtooth and square waveforms, envelope filters, and five different waveform LFO's. There are a number of presets to get you started, as well as multitouch X-Y pads for creating live evolving sounds. It also has delay and distortion effects as well.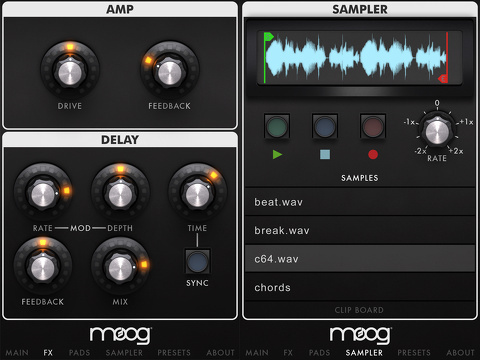 Filtatron can record audio in 16bit stereo sound, which can then be easily e-mailed or transfered to a computer. Anyone with knowledge of a synthesizer should be able to jump right in and and start making sounds in minutes, and even someone (like myself) who's new to sound synthesis could be able to navigate their way to some interesting sounds. To help out beginners Moog has included a user guide as well as a glossary of terms to help understand what everything is and how it works. If you don't know what you're doing I'd recommend loading presets to play and tweak with, that way you can get a better idea of how the sounds are created, adjusted, and warped to their more developed states. It shouldn't take too long until you start to gain an understanding of how each aspect of the synthesizer works.
Filtatron costs $7.99. Generally speaking in the world of apps this is not cheap, but considering the fact that you are getting a legitimate, decently powerful synthesizer in the palm of your hand it's quite the steal. I highly recommend this app for anyone that would enjoy serious or recreational use of a synthesizer.
This 3rd Party App is available at the Apple iTunes AppStore. Browse the full list of
all AppStore apps
filed under the AppStore category.