Breakout: Boost is a free app for the iPhone and iPad from Atari that brings back the classic game of breakout to your iOS device. The free version of the app has only 5 levels that you can play however. To play further levels you have purchase one of 3 different booster packs via in-app purchases for $0.99 each.
Graphics and design in the Breakout: Boost game are colorful although not too exciting to look at. If you're looking for modern polished design with 3D gameplay you won't find it here. If you want the classic arcade breakout game on your iPod touch or iPhone, then this will do the trick. The sound effects in the game are pretty basic. The gameplay is quite smooth and doesn't suffer from any lag issues.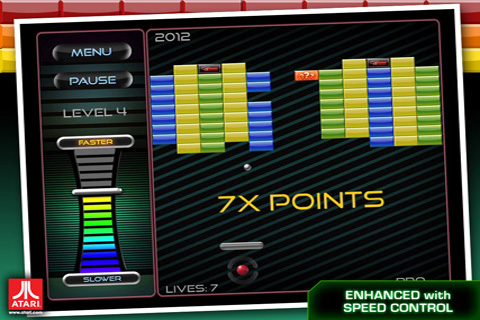 In the 5 free levels you get multi-ball, fire balls, and acid balls. You can also speed up or slow down how fast the ball(s) move and thereby change the scoring multiplier.
Overall, if you are willing to shell out the extra $3 for the Booster Packs you'll be happy with the 200 extra levels, otherwise you'll be done playing this game in less than 5 minutes. Worth a try if you're an old school arcade fan.
This 3rd Party App is available at the Apple iTunes AppStore. Browse the full list of
all AppStore apps
filed under the AppStore category.