Game Oven's app for the iPad, Fingle can be described as game of twister for your fingers. Fingle is a two-player game that uses the touch screen capabilities of your iPad in a fun and creative way allowing you to get the most out of your tablet. Fingle comes with over fifty levels and features a seventies inspired interface design including seventies music.
Playing Fingle with someone on the iPad can be a great icebreaker and a good way to get some laughs. As the levels get more challenging it's fun to try and figure out how to beat the level, intertwining your fingers with another players. There is a training mode as well as various different levels.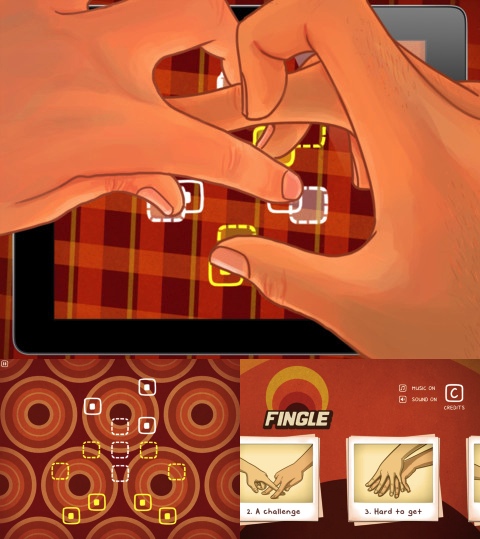 The unique design of Fingle, requiring using from one up to ten fingers, is unique amongst current games on the iPad. Currently, most two-player games involve playing over the internet whereas this app requires player interaction on the same iPad. Similar iPad games include Multipong and Ogs, which are available in the App Store. It is a very neat idea and a super entertaining game. However, it gets old quickly. One downside is that you are required to turn off the multitasking features in your settings before playing. For someone like me that uses the multitasking features often, this can get annoying.
Fingle is for sale for $0.99 in the App Store for a limited time.
This 3rd Party App is available at the Apple iTunes AppStore. Browse the full list of
all AppStore apps
filed under the AppStore category.