The Tiny Village app by TinyCo brings you to the pre-historic era where you are creating a village out of the resources around you. Thanks to its universal support, Tiny Village is one of those iPhone apps that you can play on your iPhone, iPod touch and iPad with a single download. In the center of your village lays the magic rock. The centerpiece of your village, the magic rock grows with your village providing you with extra resources, better stores and nicer decorations.
You start the game in Tiny Village with a rock and a mission to create a big village of cave people living in harmony. You start by creating a house for your cave woman. From there, you build a rock quarry to harvest resources and a store to tool store for other necessities. You create new buildings, decorate your home and expand your land into a full town. Each home houses one cave person which you need to work or haul resources in your town.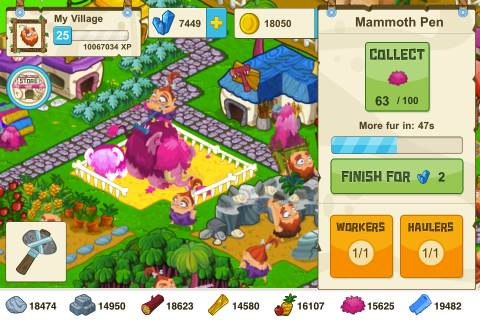 The main screen for Tiny Village shows your village. Surrounding the village lay a series of buttons to interact with your village. At the top, you find your village level and the experience points needed to get a new level. Next to that is your crystals and gold levels. At the bottom of the screen your resource levels display for your information. You begin Tiny Village with rocks, food, trees and fur. You earn the advanced resources of stone, lumber and woven fur as you progress. The hammer on the left toolbar opens up your shop and the settings button.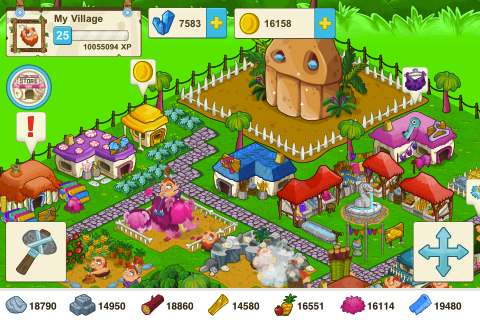 You need crystals and coins to purchase items from the shop. You get these items by completing quests and finishing tasks. When you need more to expand your village, TinyCo sells crystals and coins using the in-app purchase feature.
Tiny Village cheats are not available, so if you are looking for a way to cheat this game, sorry it's not really possible here. Some games allow you to cheat by changing the iPhone time in Settings, but Tiny Village won't allow you to cheat that way. The only tip I have for you is not to waste your crystals. Just be patient or you can cave in and pay for them, which is what the developer really wants you to do.
Tiny Village integrates with Facebook to share your accomplishments with your friends. TinyCo also created a Tiny Social app where you create a Tiny ID and interact with your friends and the community. You open the Tiny Social area of the game by clicking the up arrow button in the right toolbar.

Tiny Village by TinyCo brings the prehistoric era to your fingertips with a Sims-like reality. You get the opportunity to create your own world on your iPhone in this virtual reality game. Tiny Village works on all iOS devices including the iPod touch. This iPhone app is a great time killer. It is fun to see your village grow and succeed. The beginning of the application is slightly off-putting as you must go step-by-step through their instructions. It would be better if the developer allowed users to explore upon opening Tiny Village instead of forcing their instructions.
This app review was crafted using an iPhone 4.