Slots Journey by FishSticks Games (Free) is a casino themed slots playing game for the iPhone or iPod touch. The goal in this iPhone app as you would expect is to match symbols in sets of three or more either straight across or diagonally. You bet money and when you get a match you earn your money back plus whatever that particular combination is worth.
You begin the Slots Journey application in the Egypt area in the Sand Obelisks. There are five levels in the Sand Obelisks. After that you move on to the Oasis, and so on until you complete the Egypt area. Slots Journey has five areas: Egypt, China, Islands, Greece and Transylvania. With new updates they add new areas and levels to increase your gameplay. Each level consists of a set number of spins. Once you reach the spins for that level a new level opens. As you gain higher levels the maximum bet increases giving you a greater chance of earning big wins.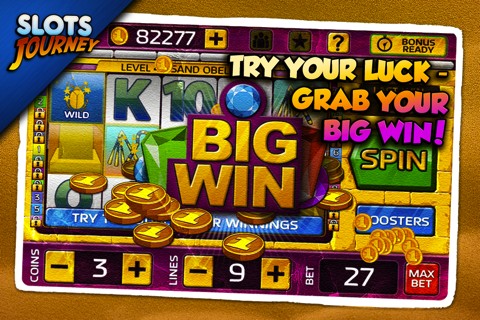 The main slot screen shows your current number of coins, the slot machine screen, the number of coins you are betting, the number of lines you are using and your total bet. You press the Spin button to play your turn. Under the spin button is a boosters button which are multipliers to earn extra coins. Above the Spin button is the amount you won on your last win.
There are special cards and characters such as the wild card, the scatter card and others that appear in the slot machine area. These cards increase the chances you get a win. You press the ? button to open up the screen explaining the different combinations of winning. You can make in-app purchases to get more coins if you run out. Every hour you get the opportunity to earn more bonus coins. Each level you complete has a three star rating underneath it. As you complete more spins, you get higher star ratings for that level.
Slots Journey is a casino themed iPhone game with the potential to entertain you for hours. It is a great slots game that has many interesting aspects such as bonus cards, boosters and side games. If you don't like playing casino games, this one probably isn't for you. It will not stay on my iOS device for very long as there are other more interesting games that could fill the space.
This review of the Slots Journey app was written using an iPhone 4 running iOS5.
This 3rd Party App is available at the Apple iTunes AppStore. Browse the full list of
all AppStore apps
filed under the AppStore category.