Do you love addictive puzzler apps for the iPhone? Cubis Creatures for iPhone and iPad is a cute game appropriate for the little ones, compelling for puzzle addicts, and entertaining for everyone else. The effective mix of punchy graphics and engaging strategy creates a fun experience where you connect cubes to win points and level up.
In a bright, modern puzzlescape, you work to wake your friends by creating groups of three cubes of the same color with simple gesture controls. In the introduction, you learn a bad spell has been cast, and the characters are asleep. You have a constant pop-up companion to help you control the cubes. The gesture controls are extremely responsive and uncomplicated.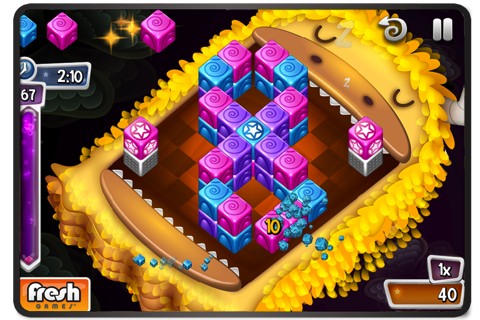 The cubes are moved on a chess board, and you move simply along two sides of the board. With a tap, your cube shoots into the puzzle. To move to the next level, you must connect three similarly colored squares a certain number of times. When you connect starred cubes, you earn more points. There is a specific strategy for each level. The strategy makes this game addictive for everyone over the age of ten. When you place one cube appropriately, you may win the entire level.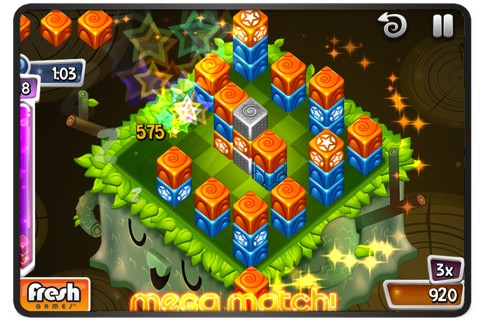 The results in Cubis Creatures game are quickly gained. It is easy to earn lots of points and advance briskly. You do work against the clock, but the time allotted is ample. Your earned points flash on the screen with bold, exciting graphics. This type of success is perfectly suited for little ones. And, the bright graphics are certainly engaging. If Pokemon and Hello Kitty combined, this Cubis Creatures world would result. These funky shaped Cubis Creatures and their abstract puzzlescape create a quirky energy. Integration with Game Center also helps you stay on top of the leaderboard and engage in tournaments and win awards.
Cubis Creatures puzzler app and a fun download from the iTunes App Store for $0.99 developed by FreshGames LLC.
This 3rd Party App is available at the Apple iTunes AppStore. Browse the full list of
all AppStore apps
filed under the AppStore category.