Zombie Gunship, developed by Limbic Software, is a free app available for both the iPhone and iPod touch. While you may be thinking that Zombie Gunship is yet another zombie game, there is a twist; rather than play in the perspective of a survivor on the ground, you are the gunner of a gunship flying over the battlefield. In each of the three available stages your goal is to protect a bunker by shooting all zombies that go near it. Occasionally, you'll also have to protect any survivors who are making a run to the bunker; Zombie Gunship ends when you kill three civilians or any of the zombies reach the bunker.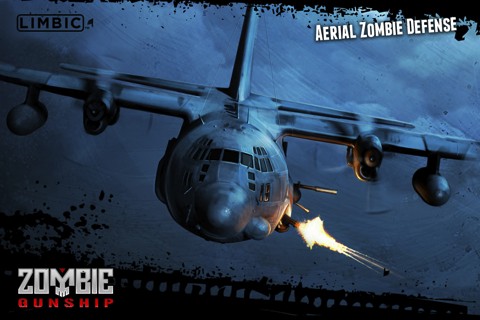 Controlling the application is simple; swipe your finger across the screen to navigate the battlefield and tap the screen where you want to shoot. In addition, you can tap various icons at the top of the screen to perform features such as changing your gun. While the controls work well, there is a delay from when a bullet is fired to when it hits the ground; while this makes sense, as you are in a plane circling high above the battlefield, it does take awhile to get used to and will result in plenty of missed shots.
With each zombie you kill you earn coins, which can then be used on a variety of upgrades: more powerful weapons, a larger viewing distance and more coins per each zombie kill. With each upgrade you purchase, the chances of reaching a new high score increase, giving Zombie Gunship much replay value. If you want to splurge you can buy coins via in-app purchases which cost anywhere form $3.99 to $49.99.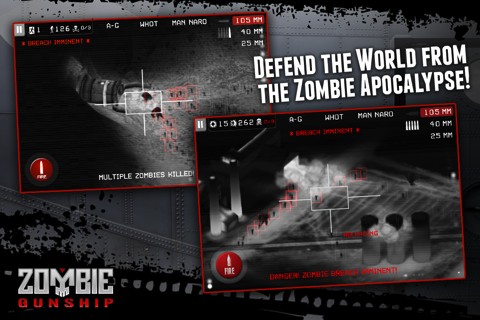 The graphics are a mixed bag. Zombie Gunship only features a few colors: grainy shades of black, white and gray. On one hand, this works great in simulating the fact that you're on an actual gunship, giving a dose of realism to a non-realistic setting. On the other hand, this works against the game as zombies tend to blend into their surroundings, as they are black outlines on a gray background. While you can change the background color to white, this then makes the civilians harder to see.
Likewise, Zombie Gunship's sound also skews toward realism. While no music is present, the sound effects, such as your gunship's gun, are very well done. This minimalist approach towards the sound and music design works well to capture the realistic atmosphere that Zombie Gunship attempts.
This review of Zombie Gunship was performed on an iPhone 4 using iOS version 5.1; no bugs, glitches or freezes were present with this iPhone app.
As a free iPhone app, Zombie Gunship is recommended. While it might not be for everyone, Zombie Gunship is worth downloading to experience it just once.