Monsters Ate My Condo reminds me of Jenga if Jenga is about matching and removing from a column of multicolored horizontal blocks. This app by [adult swim] and PikPok requires iOS 3.1 can played on the iPhone, iPod Touch, and the iPad. Feeding monsters their matching color will make them happy but when they are unhappy they will attack your tower which might result in a game over. There are four different monsters while only two different monsters will be onscreen. Feed a monster an upgraded condo to use their power such as getting two blocks instead of one when matching or straightening your tower and not letting it fall while the power lasts which hopefully nets you an impressive score.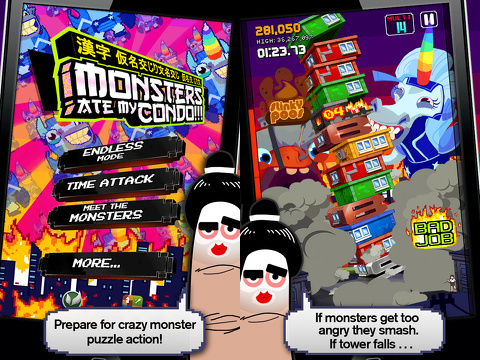 The two modes for this game are Endless and Time Attack. The only difference is that Time Attack lasts two minutes. Match three or more of the same colored condos to upgrade them into bronze, silver, gold, and diamond condos. Match three diamonds to get to Mega Zone which lets you earn more points and monsters do not attack until it ends. Concrete and bomb condos are some obstacles that can get in your way but you can get rid of them by matching helpful condos. Cat condos help upgrade a match and they can stack. You get cat condos by matching obstacles. Sometimes combos don't match perfectly such as making a match with blue but a bronze condo is in the middle of it. This happens if there is a pause in combo matching, etc. I apologize if I can't explain this clearly but when you play, you'll understand. This drawback will stall you from getting the highest score. There are some other things to talk about but I'll leave that to you to find out.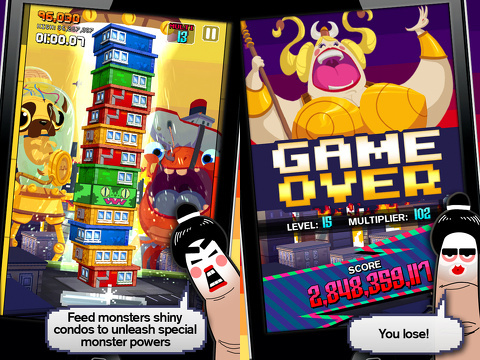 The graphics are colorful and mostly sharp. There is some pixilation if you look at the condos and backgrounds. You can see monsters attack when they're unhappy and smile when they are happy. The crab lets off its fumes when you match red. I wish there was a reference for help. I think there was a one time tutorial but I don't remember. When the game ends, a giant opera singer appears and sings for a bit. You can also see your current score and the number of upgraded condos you've matched.
Audio is amusing since there are sound effects and voices coming from the monsters. While there is not a lot of variety, the music is enjoyable. When you pause the game, there is a catchy tune that plays. That tune reminds me of Kirby maybe during boss rush or something. The robot with a dog floating in a glass jar for its head or Lord Ferocious makes a mechanical sound when you match yellow. The dismembered finger named Mr. Finger talks now and then.
Monsters Ate My Condo is $0.99 on iTunes. There is Super Monsters Ate My Condo which costs $0.99 as well. The super version requires iOS 4.3 or better and can only be played on iPhone 3GS and up, iPod Touch 3rd gen. and up, and any version of the iPad. The original and the super version offer different things. Original version has endless mode, time attack, and faster loading while super has two minute timer (doesn't have a name but it's pretty much time attack), power-ups, better chain matching, rewards wheel, buy a goal if you're stuck (levels you up, unlocks condos, etc.) and a much longer loading time. I prefer the original since I can keep going until the tower falls.